Scottish ice hockey: Ryan Dingle rues inconsistent Fife Flyers form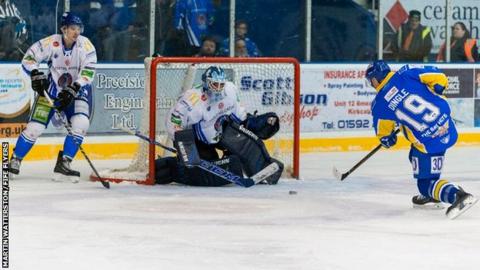 Fife Flyers captain Ryan Dingle rued his side's inconsistency after this weekend's Elite League action.
A 4-3 home win over Coventry Blaze on Saturday was followed by a 3-0 loss at Manchester Storm a day later.
"Within each game, we showed promise, but we shot ourselves in the foot on both occasions," said Dingle.
"Maybe if the puck bounced our way, it could have been a different outcome. But the puck never lies and the hockey gods didn't want us to score."
Todd Dutiaume's side suffered a late scare as they almost surrendered a four-goal lead to the Blaze, but eventually did enough to secure their win.
Dingle, Russ Moyer, Carlo Finucci and Phil Paquet had them four ahead and seemingly cruising, but Coventry's Garett Klotz, TJ Syner and Josh Godfrey all netted to make for a close finish.
The Flyers continued their inconsistent recent form with Sunday's failure to back-up their victory against the Storm.
Connor Varley, Omar Pacha and Darian Dzuirzynski were the men on target as they sent Fife home disappointed.
Dundee Stars enjoyed their third three-point weekend in a row as their two home games yielded more points.
They kicked-off the weekend on Friday against Coventry, who were in Scotland for a three-game weekend and showed further improvement, crushing them 5-1 on Tayside.
Justin Faryna, Kevin Hart, Scott Brannon, Felix-Antoine Poulin and Vinny Scarsella had the Stars well on their way to victory, with Ross Venus scoring a consolation penalty shot for Blaze.
Stars took in-form Belfast Giants all the way on Saturday, but eventually went down 4-3 after penalty shots.
David Rutherford put the visitors in front within the opening minute, but Joey Sides scored twice across two periods to turn the game in Dundee's favour.
Belfast regrouped in the third as Ryan Martinelli and Derrick Walser edged the visitors into a 3-2 lead before Faryna restored parity, taking the game to overtime then penalty shots.
Blair Riley and Felix-Antoine Poulin traded one each, but it was Chris Higgins that struck the decisive finish to make it five wins from five for Belfast.
Braehead Clan's weekend was another mixed bag, starting at Storm on Saturday and coming from behind to claim a nine-goal thriller 5-4.
Storm went ahead through Dzuirzynski in the first period, but that goal was cancelled out by Matt Keith immediately after the restart.
Cody Cartier and Matt Bissonnette put the home side 3-1 ahead, but Clan fought back as Corey Cowick, with Trevor Hendrikx equalising early in the third period.
Another from Bissonnette gave the home side a lead once more, but Clan turned the game their way through Scott Pitt, followed by Matt Beca's eventual winner with seven minutes to go.
Ryan Finnerty's men headed to South Wales on Sunday, buoyed by the night before, but the league leaders claimed the points in a 4-3 win.
Mike Hammond opened the scoring for Braehead, with Guillaume Doucet levelling for the home side shortly after.
Craig Peacock and Josh Batch traded goals in the second period, but Devils edged in front through Doucet and Joey Martin to take the game. Pitt added a late Clan consolation.
Coventry, meanwhile, ended their weekend at Edinburgh Capitals, desperate to take at least one win away from Scotland.
But the Caps were on top form, smashing beleaguered Blaze in an impressive 8-2 win to send them home pointless.
Taylor MacDougall's hat-trick and two from Jared Staal were the cornerstone of the victory at Murrayfield.