BBC Sport - Vermont win Friendship Four in Belfast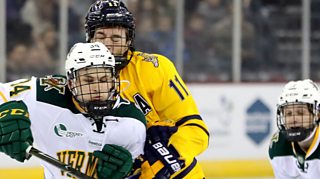 Vermont win Friendship Four in Belfast
The University of Vermont beat Quinnipiac University 5-1 in the final of the 2016 Friendship Four Tournament in Belfast.
Ross Colton scored two goals as Vermont overcame the higher-ranked Quinnipiac to pick up the Belpot Trophy.
It was the second staging of the tournament in Northern Ireland and organisers have announced that it will return to Belfast for another two years.