Nine-year-old boy facing heart surgery wins ice hockey award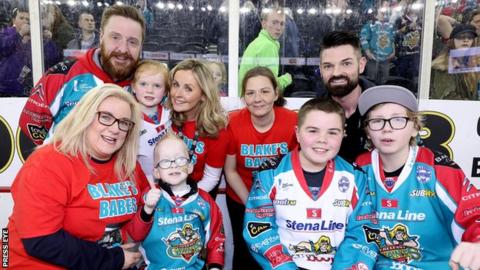 A nine-year-old boy who is set for open heart surgery in London in May has been named ice hockey's Elite League player of the week.
Blake McCaughey was credited with the Belfast Giants' third goal in their 5-3 home defeat by Sheffield Steelers after an extra goal was awarded, timed 59.59.
After being given the Giants' man of the match award, Blake led the team around the ice for their end-of-game skate, receiving a standing ovation.
Blake has a rare genetic disorder.
Blake's name was added to the official game sheet for the Elite League encounter on 17 March, and a player profile was uploaded to the league website.
He is a huge Giants fan and a popular figure at the SSE Arena.
The Elite League said: "On behalf of everyone at the Elite League, we'd like to wish Blake all the best and look forward to seeing him back on the ice again soon."