Ice Hockey World Championship: GB women beat Australia to win bronze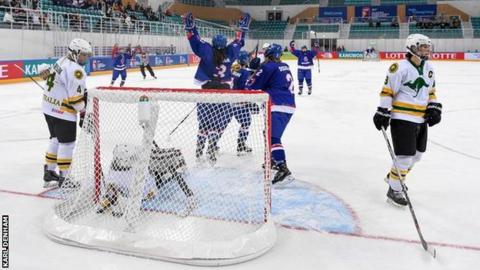 Great Britain's women secured bronze in World Championship Division Two Group A with a 5-3 victory over Australia.
The sides were tied at 3-3 after two periods before goals from Katie Taylor and Angela Taylor in the final period ensured Britain held on to third place in the group ahead of North Korea.
Defeat means Australia are relegated to Division Two Group B next year.
Hosts South Korea beat Netherlands 2-0 to win gold and promotion to Division One Group B for 2018.
Great Britain head coach Cheryl Smith said: "We are content right now and happy with the bronze, but we know it could've been better.
"We came for gold and are disappointed we did not get it, but credit to the team for battling back.
"They could've crumbled but they regrouped and battled back and worked hard to claim the bronze."
In the top division Championship, hosts USA beat Canada 3-2 in overtime to claim gold on Friday, while Finland beat Germany in the bronze-medal match.