Corey Neilson: Nottingham Panthers out to create a shock in Champions League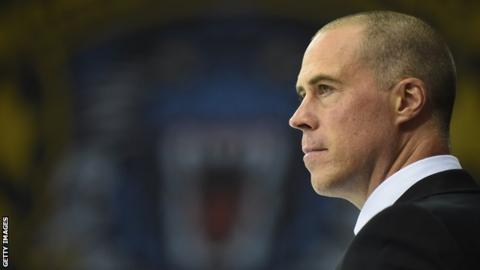 Nottingham Panthers head coach Corey Neilson says his side will try to create a shock as they begin their Champions Hockey League campaign.
The Panthers are the lowest ranked side in the competition but Neilson believes his team can still be competitive against the best sides in Europe.
The first of six group matches is at Swiss club SC Bern on Thursday.
"We want to go in and compete at a high level and hopefully shock somebody - that's our goal," said Neilson.
"We have to go in with an open mind and realise its pretty fierce competition. We're not going in to lose, we're going in to compete."
The Panthers' qualified by winning the Continental Cup last season - Europe's second-tier competition.
They last competed in the CHL in 2014 and a 3-1 win over Hamburg - their only victory - was a major achievement for UK ice hockey.
Cardiff Devils - the UK champions - are the other British side in the tournament.
Nottingham have former NHL draft pick Brett Perlini among their squad, but their budget is dwarfed by many clubs on the continent.
"We might not have the same amount of quality - players on some of these teams cost more than our entire roster," Neilson told BBC Radio Nottingham.
"We've got to stay focussed and continue to build on what we've started.
"We'll put our best foot forward, the guys are all eager to prove themselves at that level and I'm excited to see what they'll do."