Elite League ice hockey: Edinburgh Capitals turn to Russian recruits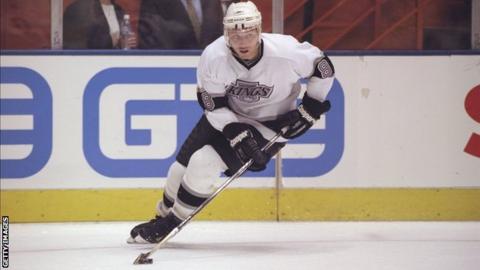 New head coach Dimitri Khristich has turned to Russia, as he seeks to end Edinburgh Capitals' bleak run of lowly finishes in ice hockey's Elite League.
The Capitals have propped up the table three times in the past four seasons, qualifying for the play-offs just once in seven years.
The new season begins on Saturday, with NHL veteran Khristich, a Ukrainian, recruiting seven Russian players he hopes will bring a new spark to his beleaguered team.
The man who appointed him is Scott Neil, the Capitals' general manager. He admits budget is a factor for the change in cultural direction, but says the influx of Russian arrivals is a worthy gamble.
"We had two Russians in the team last year and it was a positive experience from our point of view, with both doing a good job and were very professional in how they went about things," Neil said.
"That's why I think we looked more at the Russian side of things and we're all about getting the best team on the ice within our means.
'A risk worth taking'
"We're a low-budget team and that's not a huge revelation. We've found trying to compete in the North American market difficult.
"Straight away, that puts us at a disadvantage. Players want to earn as much as they can and want to be at the glamour clubs that can perhaps win things.
"In that respect, we're maybe last on the list so we try to take another direction, do something different and shake things up.
"We've not been scared to take challenges and, for me this year, it's a risk worth taking."
'Khristich has a lot to do'
Two new teams have been added to the Elite League this season, with Milton Keynes Lightning and Guildford Flames taking the tournament contingent to 12.
Prior to last term, only three Russian-born players had featured in the Elite League era, before Edinburgh signed Pavel Vorobyev and Yevgeni Fyodorov.
Ahead of the new campaign, there are eight due to ice on these shores, with only one not on the Capitals' books.
For some, the Russian recruits make Edinburgh an unknown quantity - not just for rival players and coaches, but the media too, given the limited information available on the new signings.
Edinburgh Evening News correspondent Ross Dewar reckons other Elite League teams may follow the Caps' lead.
"It was a market Scott has wanted to tap into for some time and has now managed it, so it will be interesting to see if any of the British sides follow suit in the future," he said.
"It's exciting for the club and the fans, although perhaps tough for the media in trying to find out more about the players they now have.
"Trying to reach the play-offs is as difficult now as it's ever been with two new teams coming in, meaning four will miss out come the end of the season.
"It will be interesting to see how Khristich does on that front. I don't know what expectations he had, but he'll have a lot to do.
"Even if Edinburgh just miss out and finish ninth or 10th, that has to be seen as some kind of progress. The excitement is in the unknown factor behind it and that's mixed with trepidation for the fans."
Learning curve
The Russian revolution began earlier this week when the Capitals took on University of Manitoba Bisons in a pre-season game, conceding a late goal to go down 2-1.
It was 16-year-old Callum Robertson who stood out with a fantastic goal in a game missing some of the new additions.
But Khristich, who made over 900 NHL appearances in his playing days, is keen to help youngsters such as Robertson develop, and believes the experience of the Russians can help.
"Scotland and Edinburgh is nice and the hockey hasn't been what I expected, but the players are really enjoying themselves and I like being here," Khristich said.
"The North Americans we have brought here are younger and are taking advantage of schooling here, but the Russians I'm bringing in are experienced.
"I would like to see them work closely with the Scottish players and help them develop.
"The Scottish players have worked hard so far and what they can learn is something they can show me later on as we go through the season.
"What cost us [against University of Manitoba] was we thought we could win and made a mistake that let them in. We shouldn't be doing that."
How the influence of Khristich and his Russian platoon avails itself as the season unfolds will be fascinating to watch.
Play-off qualification is the minimum target for a club that has fallen short repeatedly in recent years, and so they will hope the "risk" pays dividends.