Scottish Elite Cup win augurs well for Braehead Clan, says John Tripp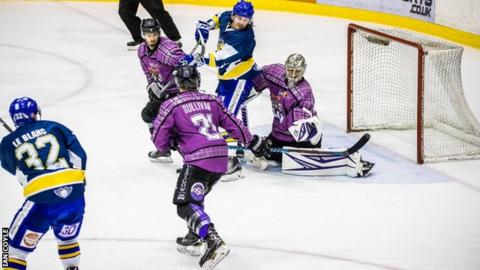 Braehead Clan head coach John Tripp was impressed with his team's attitude as they defeated Fife Flyers to win the Scottish Elite Cup at the weekend.
All four Scottish teams competed in the first tournament, which took place at Edinburgh's Murrayfield Ice Rink, with the Glasgow side taking the trophy.
But the victory left Tripp happy at what he'd seen from his players and he admitted he's happy about his team's preparations to launch into the season proper.
"It was a really good game and didn't feel like pre-season hockey," he said. "The guys really showed up to play and stepped up for each other.
"We want to play a high pace and this game is a help for us going into the new season, and overall it was a successful weekend for us.
"I'm happy where we are right now. There are still things to done, but we're getting there. This weekend's done and it's back to work on Tuesday."
The Clan took the trophy after a great final as they got the better of rivals Fife Flyers in a 3-1 game at Murrayfield.
The rivalry between the clubs was every bit as evident and while some would view the game as a "friendly", both teams played it as though the Elite League title was on the line.
Brendan Brooks struck first against the team he played for last season to put Clan in front before Landon Oslanski added a second shortly after.
Craig Peacock made it 3-0 to make it more comfortable and although Mike Embach saw his penalty shot saved, the game was far from over.
Things started to get interesting as a few simmering situations blew up into fights, with as many as five between Clan and Flyers players either side of the second interval.
Ian Young got one on the board for Fife to close the gap to two, but it was as much as they could do on the scoring front.
Despite the loss, Fife Flyers coach Todd Dutiaume was delighted with the display from his team and reckons that's just the start.
He said: "Obviously I'm disappointed at the result, but thrilled at the performance we put in. That's the type of team we looked to recruit and I like our push back in the third period.
"It would have been easy for us to fold up the tent, considering it's a pre-season event, but there's more to come from this team."
Braehead overcame hosts Edinburgh Capitals in Saturday's semi-final in a 4-2 win, with Embach and Jacob Doty on target before the end of the first period.
Sergei Banashkov got Edinburgh on the board with one, but Richard Hartmann and Oslanski settled the contest. Igor Valeyev applied a backhand finish as a Caps consolation.
Fife booked their place in the final on Saturday in the tournament's opening game with a pedestrian 6-2 win over Dundee Stars.
Danick Gauthier and Chase Schaber put the Flyers two up before Dundee hit back through Chris Lawrence in the second period.
Liam Heelis restored the two-goal cushion almost straight away, but two goals early in the third ended the game as a contest, with Omar Pacha's men offering nothing in return.
Carlo Finucci struck seconds into the period, followed by Ricards Birzins swiping in a close range finish on the powerplay. Johan Andersson found the net for Stars late on.
Dundee couldn't find their rhythm in the third place play-off on Sunday either, finishing with a 3-0 loss to Edinburgh, who cemented the bronze position.
Mike Cazzola, Banashkov and Mike D'Orazio all struck in the second period to end their weekend on a high, leaving Dundee Stars with some food for thought going into the season.
WEEKEND RESULTS
Scottish Elite Cup, Murrayfield Ice Rink
Saturday
Fife Flyers 6-2 Dundee Stars (semi-final)
Edinburgh Capitals 2-4 Braehead Clan (semi-final)
Sunday
Edinburgh Capitals 3-0 Dundee Stars (3rd place play-off)
Braehead Clan 3-1 Fife Flyers (final)