Pete Russell: Milton Keynes coach says his side will be able to compete with the best
Last updated on .From the section Ice hockey
Coach Pete Russell says Milton Keynes' win over Belfast proves they will be able to compete with some of the bigger budget teams in the Elite League.
The Lightning followed Saturday's 5-2 Challenge Cup defeat at last year's champions Cardiff with a stunning 6-3 home win over Belfast in the league.
Russell told BBC Sport: "It was a fantastic victory and I am so pleased for the team and supporters.
"We don't have the budget of some of the teams but we know we can compete."
Guillaume Doucet and British forward Lewis Hook scored twice, while Ben Foster and Kevin King were also on the scoresheet against Belfast on Sunday.
"The crowd were fantastic and gave us some great backing against Belfast," continued Russell. "It was a fantastic way to mark our first home game in the top flight.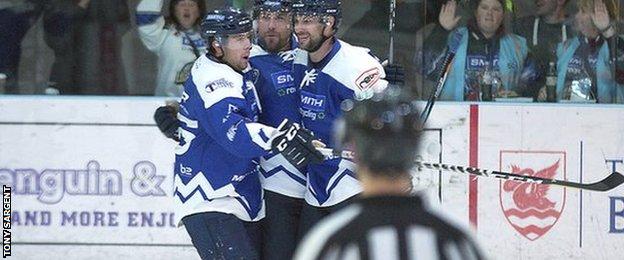 "Cardiff, Sheffield, Nottingham and Belfast are always the teams to beat, but I think our result - and Guildford beating Cardiff in the Challenge Cup - shows that anyone can beat anyone on any night.
"It was a great team effort and bear in mind we have started the season with a number of injuries, this a fantastic display from the whole squad.
"As I fully expected there will be no easy nights. Let's hope this start helps us raise the crowds even more and raise the already great atmosphere higher again.
"We have another huge weekend coming up and we welcome another top team, Braehead Clan, to Milton Keynes on Saturday for the first time ever."