Ice Hockey: Three new head coaches settle into roles in EIHL
By Scott Currie
BBC Sport Scotland
Last updated on .From the section Ice hockey
The 2017-18 Elite Ice Hockey League season is under way, with three of Scotland's four EIHL clubs having hired new head coaches over the summer.
Braehead Clan, Edinburgh Capitals and Dundee Stars have all appointed new bosses.
Fife Flyers continue with long-serving boss Todd Dutiaume.
All four clubs were involved in the Elite Scottish Cup competition at the start of September, with Braehead Clan clinching the title after beating Fife Flyers in a feisty final at Murrayfield Ice Rink.
With a fifth-placed league finish last season, Braehead Clan were the most successful ice hockey team in Scotland, having also won the Gardiner Conference.
Former New York Rangers and Los Angeles Kings player John Tripp was appointed head coach, on an initial two-year deal, in May.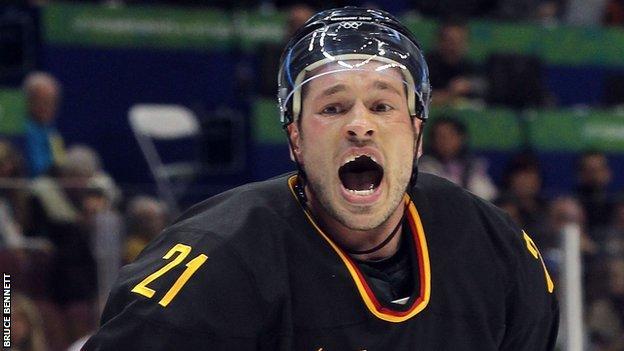 The 40-year-old joined Braehead from Eispiraten Crimmitshau of the German DEL2 and is confident he has come to a place where he can achieve success.
"I really enjoyed Germany," said Tripp.
"But talking with the Clan through the last summer, the last half-year, and seeing the facilities they have and the organisation, it's what I see as a good platform to win from."
A 3-1 victory in the the final of the Scottish Elite Cup ensured the first piece of silverware this season for Braehead, but the new boss is focussed on continuing to reach short-term goals.
"I'm not going to go to the end and say we're going to win everything," Tripp said.
"We're going to lose some games and we're going to lose some games real bad, probably. Hopefully not, but when that happens we have to learn from that and make sure it doesn't happen again."
Twentieth season at Flyers for Dutiaume
Fife Flyers finished sixth in last season's league table, but Dutiaume believes his team will benefit this upcoming campaign from having youth on their side.
"Health was a big issue for us last year," said head coach Dutiaume. "We struggled with injury.
"This year we've went for a little younger team, they're recovery is a lot better. I mentioned their enthusiasm - they're young, they're in shape, they're hungry not only to do better this season but to further on their European careers.
"Long-term goals are obviously to compete well in this league, to advance our league position from the previous season."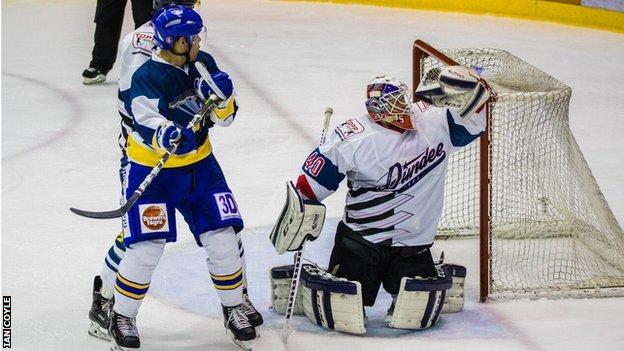 The 44-year-old first joined the Flyers as a winger back in the 1998-99 season.
"Even back then the atmosphere was electric in [Fife Ice Arena], and I took to it right away," Dutiaume added.
"I came for three months, stayed for 20 years and I don't regret a minute of it.
"This is an intimidating place for opposition to come into.
"I've seen many a good team come up here and go home with no points, and one of the things they're talking about is the atmosphere in this building.
"It's one of the best in the league."
Dual role for new Dundee boss
Dundee Stars begin the season with not only a new head coach, but a new general manager as well. Canadian Omar Pacha takes on the dual role, which is a first for both him and the club.
"When [Dundee Stars director] Steve called me for the job, he offered me the head coaching job and then we talked about maybe growing the business more," Pacha said.
"I really, really feel there's a lot of potential in Dundee. We can really grow this sport and [with there] being only three professional teams in all of Dundee, it's a huge opportunity for us to grow."
The Stars finished the 2016-17 league season in seventh place, as well as being runners up in the Gardiner Conference, and the former Manchester Storm and Hull Stingrays player-manager insists his team will work towards success.
Pacha said: "It's irrelevant; the talent, skill that the league has.
"We know that we will be the hardest working team on every single night so that will give us the best chance of winning.
"I'm really looking forward to working with this group. I'm really looking forward to the challenge of working with the club overall and I really think it will be an exciting season for any Stars fan."
Russian revolution at The Caps
Seven Russian players have joined Edinburgh Capitals so far this season.
The Caps also have a new head coach in Ukranian Dmitri Khristich.
"It is definitely a fresh start," said the former Washington Capitals player.
"It's definitely a new area for Capitals also. They have a lot of new Russian players in the team so it's probably a good idea to get a coach who can speak both English and Russian."
Khristich previously worked with Ukraine as an assistant coach, and he now takes on a side that finished bottom of the league in three out of the past four seasons.
"We do have a goal to at least get into the play-offs and play it from there," he added.