Elite League: Sheffield Steelers 0-2 Belfast Giants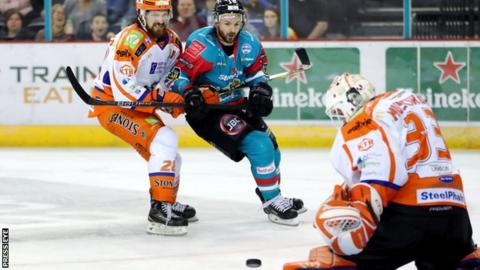 Belfast Giants made it back-to-back weekend wins over Sheffield after goals from Colin Shields and Darcy Murphy earned a 2-0 away victory on Sunday.
After a goalless opening 20 minutes, Shields put Belfast ahead seven minutes and 24 seconds into the second period.
Murphy clinched Belfast's win with an empty-net goal four seconds from time.
The second goal came after Adam Keefe's Giants had held firm despite intense Steelers pressure.
Keeper Stephen Murphy had an outstanding game for Belfast before being replaced in the closing minutes.
John Kurtz and Cole Jarrett went close for the Giants in the opening period as the visitors outshot the hosts by seven to six.
Despite giving Sheffield six power plays in the second period, it was the Giants who took the lead as Shields skilfully picked the puck out of the air before finding the net.
Murphy made a number of great saves late in the second period and early in the third before being forced off by injury with just over six minutes remaining.
His replacement Jackson Whistle kept up the display of superb Giants net-minding during his short stint before Murphy's goal sealed Belfast's victory.
On Saturday, goals from Dustin Johner, Jarrett and Sebastien Sylvestre earned Belfast a 3-1 home win over the Steelers.
All three players were summer signings by coach Keefe.
The two weekend wins have moved Belfast up to second in the table - two points behind leaders Manchester - with the Giants having a game in hand.
The Giants will be back in action against Nottingham Panthers at the National Ice Centre on Wednesday night (19:30 BST) before hosting Edinburgh Capitals in the Challenge Cup on Saturday.