Edinburgh Capitals lose 10 in a row, big win for Dundee Stars
By Craig Anderson
For BBC Sport Scotland
Last updated on .From the section Ice hockey
Edinburgh Capitals forward Mike Cazzola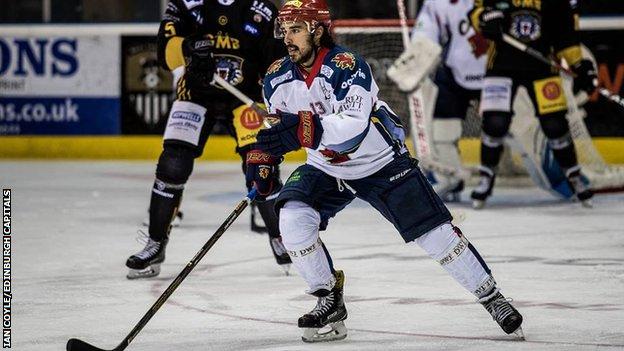 Edinburgh Capitals forward Mike Cazzola says some of his team's mistakes have been of their own doing after another loss.
Saturday's 5-2 defeat to Braehead Clan was their 10th in a row, keeping them rooted to the bottom of the league with only one win from 13 games so far.
And Cazzola admits it's a frustrating after coming from two goals behind to draw level, only for their opponents to find another gear and kill them off.
"Every night we're going out and guys are putting their bodies on the line, we're trying and it's taking some getting used to," Cazzola said.
"Some of what happens has been self-inflicted. We scored to equalise in the last two games and make an error from which our opponents capitalise and that's it for us.
"These mistakes are of our own doing and if we can eliminate those and get some lucky bounces, we can get that win and hold on to it."
"We can't use the injuries we've had as an excuse, but we got a couple back on Saturday which helped and have to make sure we're still working hard and it'll pay off in the end.
While Edinburgh look for ways to snap their 10-game losing, Braehead were ending their winless run, which was up to four.
Brendan Brooks and Tyler Scofield put Clan two up, before Denis Trakhanov and Marek Tvrdon pulled Edinburgh level in the second period.
Their joy was short-lived as Brooks added a third before Cameron Burt and another from Scofield clinched a good road win for the Glasgow side.
With no action on Sunday for the Scottish teams, the action was kept to Saturday for three of the four teams, with Dundee Stars the only team to play twice.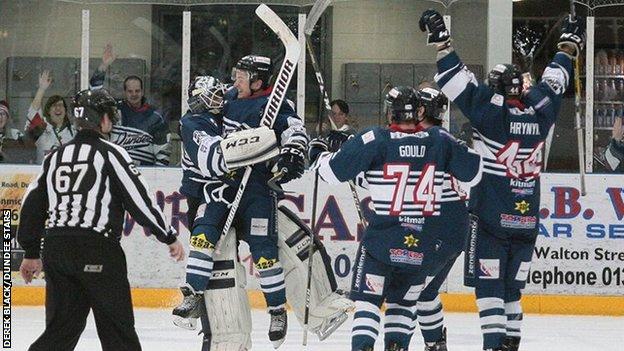 They began their weekend with a 5-2 loss at home to Belfast Giants on Friday in a game they never really got any control of.
Giants got the game by the scruff of the neck from the off and were three up without reply at one point as Sebastien Sylvestre, Brendan Connolly and Steve Saviano all scored.
Riley Stadel pulled one back, but Belfast added another two through Colin Shields to seal the points, despite a late marker from Brian Hart.
Omar Pacha's side stayed at home for the visit of Pacha's former club, Manchester Storm on Saturday and took the points in a 5-4 victory that was settled by penalty shots.
It was a huge win against the current league leaders and it started and ended dramatically as three goals were scored in the first seven minutes.
Storm went ahead through Dallas Ehrhardt and Matt Beca, but Joey de Concilys pulled one back before adding an equaliser during the second period.
Mike Hammond edged Manchester in front ahead, but saw that one cancelled out by Justin Fox as the game balanced on a knife edge.
Jay Rosehill gave the visitors the lead in the final two minutes, but Pacha's last gasp equaliser took the game into overtime then penalty shots.
Pitt missed his crucial effort to allow Marc-Olivier Mimar to finish off and claim a big home win for the Stars in the end.
Belfast left Dundee on Friday and headed to Fife Flyers on Saturday, looking to complete four road wins against all Scottish opposition over the last two weekends.
They got it as they edged Todd Dutiaume's side to take the win as well as league and Challenge Cup points in a game that counted double.
John Kurtz and Darcy Murphy gave the visitors an early lead, with Shields adding a third before Flyers hit back through Danick Gauthier and Ian Young.
It was Cole Jarrett's empty net goal in the final minute that secured a four-point weekend for the visitors to leave Fife pondering what might have been.
RESULTS (all league games unless stated)
FRIDAY:
Dundee Stars 2-5 Belfast Giants
SATURDAY:
Dundee Stars 5-4 Manchester Storm (SO)
Edinburgh Capitals 2-5 Braehead Clan
Fife Flyers 2-4 Belfast Giants - League/Challenge Cup Group A