Elite League: Cardiff Devils 3-4 Belfast Giants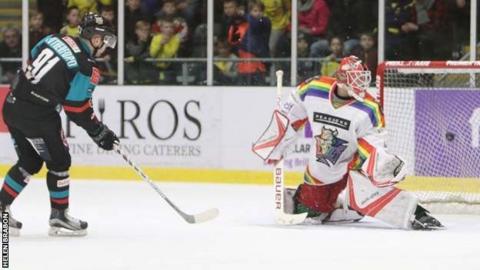 David Rutherford was the shoot-out hero for the Giants as they clinched an Elite League win over Cardiff in Wales to secure a weekend double.
Sebastien Sylvestre netted a Belfast opener but Layne Ulmer and Partrick Asselin replied for the hosts.
Ryan Martnelli equalised and Joey Martin put Cardiff in front before Sylvestre's last-gasp leveller.
It went to overtime and then penalties with Rutherford winning it to follow up Saturday's victory over Coventry Blaze.
Sylvestre netted for the Giants at 2:36 with a powerplay strike, following up on Blair Riley's shot before Ulmer equalised at 5:46 as the Devils posted a powerplay goal of their own.
Asselin grabbed a go-ahead goal for the home side at 8:01 with a second powerplay effort.
Level terms
Martinelli's well placed shot at 10:48 brought the visitors back onto level terms after Sylvestre found the defenceman wide open in the Cardiff zone.
With referee Hicks sending both Sylvestre and Towe to the penalty box, the home side capitalised on the two-man advantage.
Martin, assisted by Paris and Morissette, squeezed the puck past Whistle at 30:44 to edge the Devils in front.
The final period was filled with end-to-end action as both Jackson Whistle and Ben Bowns were called into action on multiple occasions.
Then, with only five seconds to go and the netminder pulled, the Giants struck through Sylvestre, assisted by Brandon Benedict, to equalise in the most dramatic fashion.
Whistle saved all five of the Devils' penalty attempts with Rutherford scoring the all important winner, giving the Giants another two valuable Elite League points on the road.
On Saturday Devils fought back from 2-0 down to win 4-3 at Fife Flyers.