Corey Neilson: Nottingham Panthers can cope with duo's absence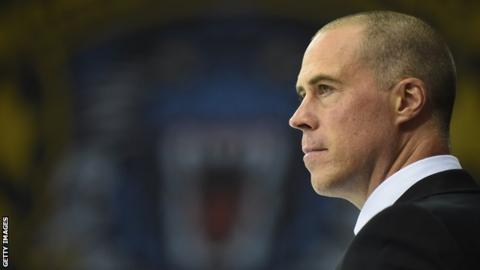 Coach Corey Neilson believes Nottingham Panthers can cope with the absence of Raphael Bussieres and Evan Mosey.
Mosey is out with a shoulder injury while Bussieres has a one-match ban for a check to the head in Saturday's 4-1 victory over Sheffield.
Bussieres will miss Saturday's home game with Cardiff and the club say Mosey will be "sidelined for a while".
"It is unfortunate but we have enough bodies to make sure we are going full tilt this weekend," Neilson said.
Meanwhile, Nottingham have been fined £500 for a water-squirting incident from the bench in the victory over Sheffield.
The Elite League's Department of Player Safety have analysed video footage from the incident and in a statement said: "With the video evidence conclusive that water was squirted on to the the opposing player, but inconclusive as to the exact individual who performed this act, the Nottingham Panthers organisation has been fined £500 for this incident.
"The responsibility of controlling the players on the bench is that of the coach and team, not the game officials."