Elite League: Belfast Giants 4-2 Braehead Clan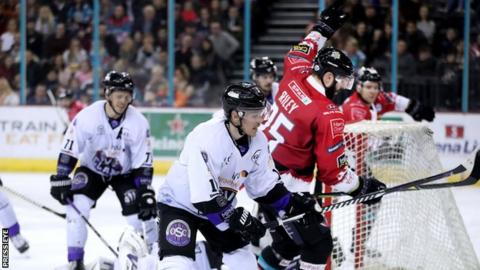 Belfast Giants came from behind on two occasions to clinch a 4-2 victory over Braehead Clan in Saturday's Elite League game at the SSE Arena.
After a goalless first period, Jacob Doty put Braehead ahead and while Blair Riley levelled, Tyler Shattock then restored Clan's lead.
However, Spiro Goulakos got Belfast on terms again before Steve Saviano put them ahead with three minutes left.
Matt Towe's empty-net goal rounded off a four-point weekend for the Giants.
On Friday, Belfast hammered Edinburgh 7-2 as they played their first home match after a run of 10 away contests and their weekend wins keep them second in the table four points behind leaders Cardiff Devils, who also have a game in hand.
Belfast failed to exploit three powerplay opportunities in the opening period with Jonathan Ferland coming closest to scoring when he rattled the pipes.
The Giants were nearly made to regret their profligacy when Tyler Schofield had an opportunity for Braehead but Jackson Whistle made a fine high glove save to ensure the opening period remained goalless.
Braehead made the extra man count early in the second period when they converted a powerplay of their own as Doty supplied the finish.
Belfast produced an immediate response as David Rutherford's persistence set up Riley to slot home but Braehead regained the lead when Shattock pounced on a rebound off Whistle's pads with little over three minutes to go in the period.
Goulakos ripped a shot high past Ryan Nie to level again before Rutherford spurned a golden opportunity for the lead when he failed to score a penalty shot.
But the Giants finally exploited an opportunity with an extra man after Landon Oslanski was penalised for slashing as Riley's pass was finished off from close range by Saviano.
Towe's late effort with 13 seconds left confirmed Belfast's win.