BBC Sport - Highlights: Giants gain Steelers revenge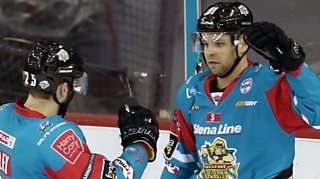 Giants step up to defeat Steelers
Belfast Giants are back up to second place in the Elite League standings after a 5-1 win over Sheffield Steelers.
After losing a bad-tempered game on Friday, the Giants took revenge with a double by David Rutherford as well as goals from Darcy Murphy, Jonathan Ferland and Colin Shields.
"Everybody stepped up in a big way tonight. There was not one guy who was a passenger," said Giants coach Adam Keefe.