BBC Sport - Belfast Giants hit two late goals to earn second win of weekend over Panthers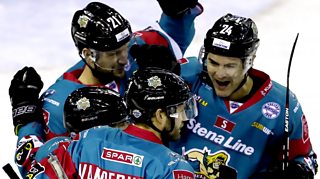 Giants earn second weekend win over Panthers
Last-minute goals from Sebastien Sylvestre and John Kurtz earn Belfast Giants a thrilling second Elite League win in 24 hours over Nottingham.
With the Giants having beaten the Panthers 5-2 on Friday night, they are now only three points behind leaders Cardiff Devils.
Kurtz opened the scoring before his empty-net goal with Spiro Goulakos and Blair Riley also on target for Belfast.