Samantha Bolwell: GB netminder back for Worlds after street attack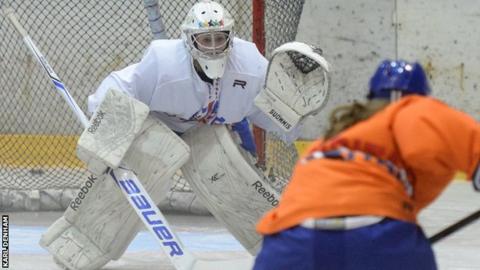 Great Britain netminder Samantha Bolwell says she used the pain of missing last year's World Championship in South Korea to win back her place for this year's tournament in Slovenia.
The 25-year-old needed an operation after being attacked on the streets of Manchester and missed last year's bronze-medal success.
She told BBC Sport: "It was a devastating time and I had to have surgery, but once I recovered from that it was a long journey in the gym.
"I worked so hard on and off the ice to make sure I was here."
Britain start their campaign in Maribor against Australia on Saturday.
Bolwell, who suffered damaged internal organs in the street incident, has made 18 appearances for her country since making her debut in 2012.
GB play in Division Two Group A of the World Championship structure and will be looking for a gold medal and promotion after two silvers and two bronze medals in the past four years.
Last year's Championship took place in the Olympic venues in Gangneung and was used as a test event from the Olympics in South Korea this year.
"I was gutted to miss it," continued Bolwell. "From the pictures I saw from the girls it looked amazing.
"But I am back now and words can't describe how determined I was to get back. I wanted to give it everything I had and I was so determined on and off the ice."
Britain will also face North Korea, Mexico, Slovenia and the Netherlands during the Championship, with Leanne Ganney again named as captain and Saffron Allen and Lauren Summers as alternates.
"The first thing is always to wear the GB shirt and to have the captaincy on top is amazing," said Ganney.
"I love leading these girls and I hope the feeling is mutual. They are such a great group of girls, so they make my life easy."