Fife Flyers winner 'biggest of career' - Carlo Finucci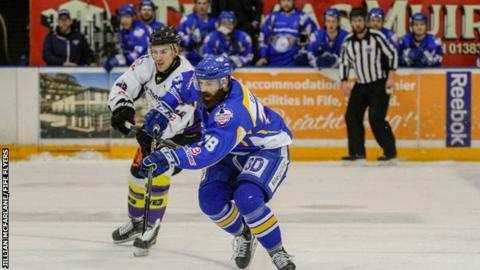 Fife Flyers hero Carlo Finucci says his overtime winner that sent them to the Elite League play-off finals in Nottingham was "probably the biggest goal of his career".
The Kirkcaldy side overcame a 4-1 deficit against Manchester Storm on Saturday to win by the same margin away from home on Sunday.
"It was quite an effort by the boys, said Finucci.
"After losing on Saturday, our approach to the second leg was to win every period."
It's the third time Fife will participate in the play-off finals after previous appearances in 2014 and 2016.
Interestingly, it's the first time the Gardiner Conference winners have won through to the end of season finale since the Conferences were introduced in 2012.
However, the manner of how they did will be talked about for years in Kirkcaldy in a year where they'll celebrate their 80th anniversary.
Cardiff Devils stand in their way of an appearance in the final when they meet in Saturday's semi-final, but they'll be entitled to enjoy this.
After Saturday's game, the Flyers were effectively written off when Ryan Finnerty's side left with a 4-1 result in their back pocket and big favourites to finish the job.
Former Flyer Chris Auger opened the scoring before Storm added to their lead with second period goals from Linden Springer and Andy McKinney.
Although Dan Correale hit back for Fife in the third, Matt Beca scored Manchester's fourth to put them in pole position for the rematch.
They had a mountain to climb when the tie went south of the border. They knew it, but they had an idea of how to approach it. And it worked.
The first mission was to get the first goal on the board and they did that inside the opening five minutes when Danick Gauthier found himself free to tuck the puck away.
Goal number two followed in the early stages of the second period when Finucci's one-timer flew into the Manchester net and what seemed unlikely on Saturday, started to look likely.
Jim Jorgensen got the third and the goal to tie aggregate when his slapshot found its way over Storm goalie Mike Clemente's stick and into the home net.
Manchester hit back through Mike Hammond late on in the second period as they edged in front once again, but that minor setback didn't dampen the Fife spirit.
A wrist shot from Liam Heelis found its way into the roof of the net and tie was drawn at 5-5, although Fife were 4-1 up on the night.
Nerves were frayed, fingernails chewed as the game moved into overtime with only one goal needed to settle the tie and it was Finucci who came up with the goods to seal the glory.
Flyers' assistant coach Jeff Hutchins believes his team have it in them to go on and win the trophy, but was delighted to break what he joked was a curse.
He said: "I've been to the finals a couple of times as a player, but this is my first as a coach and I joked with Todd I must be a curse after we lost on Saturday.
"He kept saying we would do it and told me after the curse was broken, so I do believe that we're a team that can win a two-game tournament.
"There's nothing but belief in this team and although Cardiff are our opponents, we've ran them close and even beat them, scoring eight past them in one game.
"We don't fear our next opponent and the guys approach every game the same way. They're excited and after all we've accomplished, this would be the icing on the cake."
Results
Saturday
Play-Offs Quarter Final 1st Leg
Fife Flyers 1 Manchester Storm 4
Sunday
Play-Offs Quarter Final 2nd Leg
Manchester Storm 1 Fife Flyers 5
(Fife Flyers win 6-5 on aggregate - after overtime)