Scottish ice hockey: Fife Flyers suffer play-off disappointment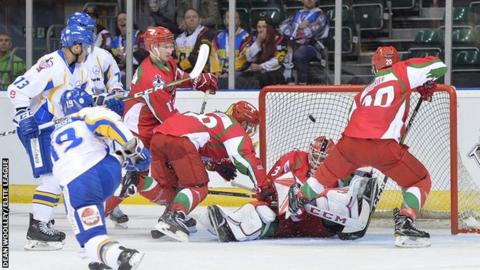 Coach Todd Dutiaume felt Fife Flyers deserved to end their season on better terms after failing to make an impact at the Elite League play-off finals.
They could not repeat their quarter-final heroics against Manchester Storm last week as eventual winners Cardiff Devils shut the door on them in a 4-0 loss.
Then Sunday's 8-2 defeat to Nottingham Panthers in the consolation final meant Flyers are still to taste victory in six games and three attempts at the play-off weekend.
It left the Flyers boss feeling the end-of-season finale had been anti-climactic in a campaign that saw them win the Gardiner Conference title.
"It's my third time here as a coach and it's a shame to see the season peter out like that," said Dutiaume. "I've loved working with this group of guys and they're a special bunch.
"We've got through it and when we get together, we can reminisce about what's been an excellent season for this club.
"Reflecting on Saturday's game, if we'd taken one or two of our chances in the first period, it would have given us a boost and maybe put some pressure on Cardiff.
"By not doing that, they stepped it up a notch. By the end of the game, I think it was apparent they had the legs.
"It was incredibly disappointing to play in the consolation game on Sunday and I'd have liked us to perform better.
"It's difficult to switch off then back on and were still down from Saturday. As the game wears on, it's not taken seriously and not an enjoyable experience."
The positivity coming from Kirkcaldy prior to the meeting with the Devils was impressive as the coach and members of his team talked up their chances of causing an upset.
With a healthy contingent of Flyers fans filling their block in the Motorpoint Arena, they were up for it as well as Fife went head-to-head with the league champions.
Devils' opener came at the end of the second when Fife goalie Andy Iles was dragged out of position after denying Layne Ulmer, with Tyson Strachan finishing into the empty net.
Shayne Stockton went close immediately after and Jim Jorgensen threatened, but the Devils were finding their groove in the third period.
Another rebound from Sean Bentivoglio's shot allowed Matt Pope to double the lead for the Welsh side, then an Ulmer finish from close range killed Flyers off.
To rub salt in the wounds, ex-Dundee Stars forward Justin Faryna finished with Cardiff's fourth, consigning Fife to the consolation game.
Awaiting them were Nottingham Panthers, edged out in overtime by Sheffield Steelers in a 5-4 thriller on Saturday.
But, as is the way with this game, it was played at a relaxed pace as both teams went through the motions.
Jim Jorgensen and Carlo Finucci found the net as Fife finished the weekend with an heavy defeat in a low-key affair.
"The planning is already under way for next season, but this week was all about coming to Nottingham and focusing on that," said Dutiaume.
"This is a big step for us as a group and the trip to Nottingham was well deserved.
"We were right up there. But we'll take some time off before we forge ahead with our plans for next season."
Cardiff Devils won the competition when they beat Sheffield Steelers 3-1 in Sunday's final, completing a double after already winning the Elite League.