Elite League: Murrayfield Racers bid to take Edinburgh Capitals franchise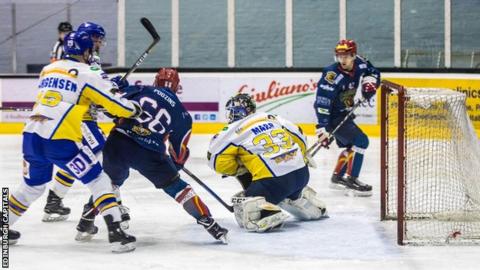 An attempt to resurrect Murrayfield Racers in ice hockey's top division next season has been confirmed by Britain's Elite League.
It means troubled Edinburgh Capitals face losing their franchise.
"The league can confirm that it has received an application from Racers Leisure Ltd for inclusion in the Elite League starting in the 2018-19 season," said a statement.
Capitals have already lost their contract to use Murrayfield Ice Rink.
They won only two of their 24 fixtures in the season just ended, the worst record of the 12 teams in the three conferences, and finished bottom of the Gardiner Conference, which contains the four teams based in Scotland.
The possible return of Racers after a gap of 23 years has not been welcomed by some Capitals players.
Defenceman Jay King, who has come through the club's youth ranks and has represented Scotland, said he would not be joining a set-up without general manager Scott Neil.
"I owe Scott and the team a lot, so I've decided, with no Caps and no Scott at Murrayfield, I won't be there either," the 21-year-old said on Twitter.
"This definitely won't be the end of me playing, I will end up somewhere, but I have no idea where yet."
Goalkeeper Kevin Forshall said: "Let's start a new hashtag: #NoCapsNoMe."
A club called Murrayfield Racers operated from 1952 until 1995, winning the British title six times.
Capitals were established three years later, but their highest finish in Britain's top flight has been sixth - in 2009-10 and 2012-13.
The board of the company looking to establish the new franchise includes David Hand, the brother of former Great Britain and Racers player Tony Hand.
"Racers Leisure Ltd are delighted to announce they have secured a contract for ice time at Murrayfield Ice Rink for season 2018-19," it said in a statement.
"The directors of Murrayfield Ice Rink agreed with the vision of Racers Leisure Ltd for the future of ice hockey in Edinburgh.
"We will now formally contact the Elite League to secure the franchise for Elite League ice hockey in Edinburgh."
Following its monthly meeting on Tuesday, the league's board said it "discussed in detail the issues relating to the Edinburgh Capitals and the ice-time agreement at Murrayfield Ice Rink".
"The EIHL has today written to all interested parties requesting further information relating to their interest in participating in the league next season," it said.
Capitals announced on Monday that they had "lost their bid for ice time at Murrayfield Ice Rink".
"What this means for Edinburgh Capitals as a club going forward is yet to be decided at this early stage," they stressed in a website statement.
"More information will be provided as things become clearer."