Elite League: Murrayfield Racers' bid to take Edinburgh franchise rejected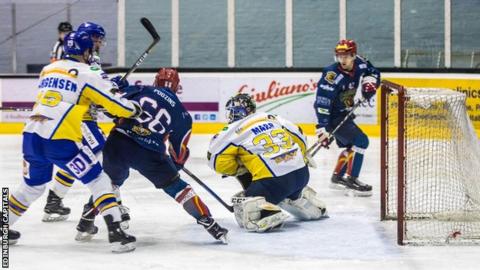 Scotland is in danger of losing one of its four top-flight British ice hockey teams after the resurrected Murrayfield Racers had their application rejected.
Current Elite League club Edinburgh Capitals lost the contract to use Murrayfield Ice Rink this month.
Racers were looking to make a return after a 23-year gap.
But the British league said that, "after careful consideration of the proposals", the new club would not be participating next season.
"Regarding the vacant 12th slot, we are continuing to examine all options going forward and will announce an outcome in due course," said a league statement.
Nobody from the league, the Capitals or the Racers was available for further comment, but it means Scottish ice hockey could lose one of its four British league franchises next season.
Operating under Racers Leisure Limited, the new group had won the contract to use Murrayfield ahead of Capitals.
Asked if Capitals would now be given ice time back, ice rink managing director Richard Stirling told BBC Scotland: "We made the decision to go with the viable option - that was the Racers.
"We are disappointed that the Elite League have chosen to reject what we thought was a viable proposal to run a team.
"Where Edinburgh hockey goes from here, we don't know.
"Racers are still our preferred bidder to operate out of Murrayfield.
"The bid was only for the Elite League, so we need to see what happens over the next few days once the dust settles as to what kind of hockey we put on show.
"The upside of the bid being rejected is that, one way or another, we will have hockey at the highest level and, for players, more ice time as they'll have few imports to compete with.
"There are other leagues throughout the country - Dumfries compete in the English Premier League, so we might apply for that and see if accepted."
The Elite League was reorganised into three conferences for the first time in the season just finished.
Capitals finishing a distant fourth behind Braehead Clan, Dundee Stars and Fife Flyers in the all-Scottish Gardiner Conference.
With two wins in 24 fixtures, the Capitals had the worst record of the 12 teams in the three conferences.
Their highest finish in Britain's top flight has been sixth both in 2009-10 and 2012-13.
The board of the company that applied for the new franchise includes David Hand, the brother of former Great Britain and Racers player Tony Hand.
A club called Murrayfield Racers operated from 1952 until 1995, winning the British title six times, with the Capitals establishing three years later.