Vegas Golden Knights on verge of history after reaching NHL finals in debut season
Last updated on .From the section Ice hockey120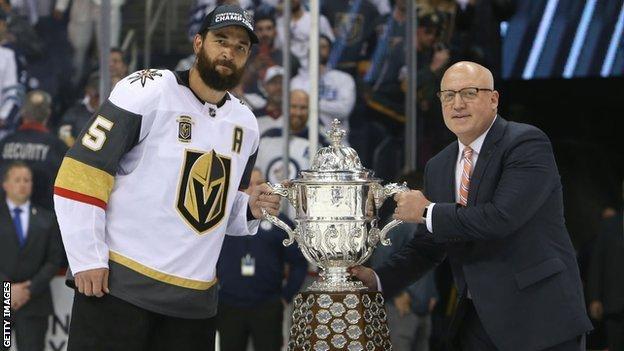 A team of "misfits" given odds of 500-1 to win the title at the start of their debut season are on the verge of making history after reaching the NHL finals in their inaugural campaign.
The Vegas Golden Knights completed a 4-1 series victory over the Winnipeg Jets to become the first expansion team in 50 years to reach the Stanley Cup finals in their first season.
The Knights are Las Vegas' first major professional sports team and were awarded a franchise in June 2016 after owner Bill Foley paid a $500m (£403m) expansion fee to the NHL.
They won their inaugural game on 6 October 2017, five days after a gunman opened fire at a Las Vegas country music concert, killing 58 and injuring 489.
"It means a lot to us," said defenseman Deryk Engelland. "This is what you play for all season.
"After 1 October, those first games, you want to play for the city, the people that were affected by it. To make this run, win this series and move on, it's awesome for us, but it all comes back to the city and the people affected by that."
Goaltender Marc-Andre Fleury added: "I think as a team, we couldn't heal anybody. But if we could just change their mind a bit throughout those first few weeks and throughout the season, getting them to be proud of the team, cheering for something, we were able to provide a little bit of that for Vegas."
The Knights' team is made up of players deemed expendable by their former clubs, picked up at the 2017 Expansion Draft. They have been labelled the "Golden Misfits" by some of the players.
Head coach Gerard Gallant was fired by the Florida Panthers the previous season after an away defeat and was reported to have had to get his own taxi back to the airport.
"Each guy was given a new chance and opportunity here," said Knights forward James Neal. "[Gallant] gave you that opportunity and let you work with it. He's just positive, the perfect coach for our group."
They will play either the Tampa Bay Lightning or the Washington Capitals in the best-of-seven series final.
Analysis
BBC Sport ice hockey commentator Seth Bennett
The Golden Knights have been the sporting feelgood story that has kept giving all season long.
As the first top-flight professional sports team to make Las Vegas their home, they have very quickly become a focal point of the community.
Following the massacre in Las Vegas last October, the Golden Knights took a leading role in supporting the city before they had even played their first game.
It is a role the franchise has continued to embrace and the Las Vegas community, the majority of whom live away from the bright lights of the casinos and the strip, have embraced them right back.