Washington Capitals coach Barry Trotz resigns after Stanley Cup win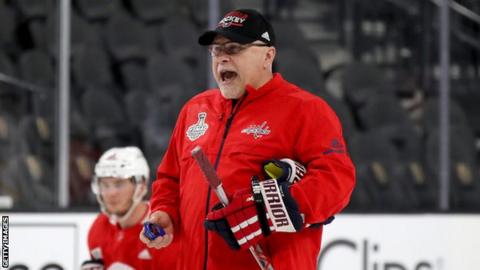 Washington Capitals coach Barry Trotz has resigned, less than two weeks after leading them to their first Stanley Cup title.
The 55-year-old, who spent four seasons at the Capitals, triggered a two-year extension to his contract by winning the Stanley Cup.
However, the financial terms of the deal were below market value, according to media reports.
The Capitals and Trotz were unable to agree a deal for him to stay as coach.
"After careful consideration and consultation with my family, I am officially announcing my resignation," he said in a statement.
"When I came to Washington four years ago we had one goal in mind and that was to bring the Stanley Cup to the nation's capital.
"We had an incredible run this season, culminating with our players and staff achieving our goal and sharing the excitement with our fans."
Trotz won the NHL coach of the year award in 2016 and his 762 career wins put him fifth on the NHL's all-time list.
The Capitals beat the Vegas Golden Knights 4-1 in the best-of-seven Stanley Cup series, winning the title for the first time in their 44-year history.