NHL draft: England's Liam Kirk picked by Arizona Coyotes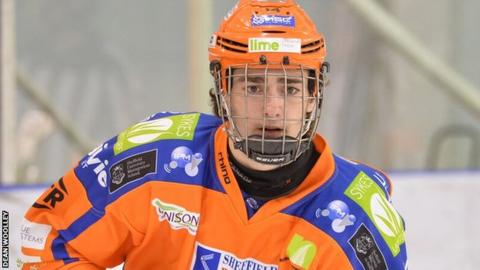 Liam Kirk became the first player born and trained in England to be picked in the National Hockey League draft after being selected by Arizona Coyotes.
The 18-year-old forward was the 189th player to be chosen this year.
Kirk has played for Sheffield Steelers for the past three seasons and helped Great Britain secure promotion back to ice hockey's elite level in April.
"I don't have any words for it. I'm just very excited and really emotional," Kirk told NHL.com.
"It sounds like camp will start next week so I'll be getting there as soon as possible. It'll be my first time on the ice in a while when I get there.
"My mum and dad got tears in their eyes and I owe a lot to them for driving me back and forth to hockey games and training sessions."
Kirk is unlikely to make the Coyotes team to start next season, but will move to the United States and play for one of their affiliates.
He joins Scottish duo Colin Shields and Tony Hand as the only players born and trained in Britain to have been drafted to the NHL.
Hand was chosen by the Edmonton Oilers in 1986 and Shields was picked by the Philadelphia Flyers in 2000, though neither played a game.
Analysis
BBC ice hockey commentator Seth Bennett
Liam Kirk's rise to the top has been nothing short of remarkable. He has played all of his ice hockey in the UK, first with the junior set-up in Sheffield and then with the Steelers in the Elite League. To get an NHL team to come and watch him play, let alone select him in the draft, is special.
The next 12 months will have a big say in what happens next. He is already on a plane to Arizona, where he will take part in their prospects camp and the Coyotes will get a glimpse of how he compares to kids his own age.
Kirk needs to learn the North American game and get stronger to have a shot at playing in the NHL. It is most likely he will be sent to play junior hockey in Canada against players of a similar age and given a strength and conditioning programme that will add some more muscle to his wiry frame.
Whatever happens next Kirk has smashed an opening other youngsters should be ready to take advantage of. If they do, it could mean Olympic ice hockey for Great Britain is no longer just a distant pipe dream.