Ice Hockey: Challenge Cup back in Cardiff for 2019
Last updated on .From the section Ice hockey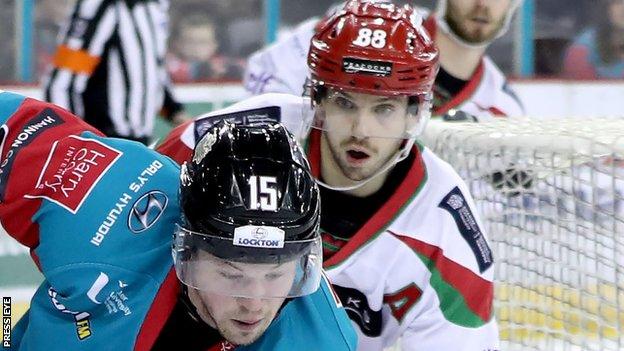 Ice hockey's Challenge Cup final returns to Cardiff for a third successive year in 2019.
It will again be played at Ice Arena Wales, on Sunday, 10 March.
Devils Managing Director Todd Kelman said: "We have seen many great sporting events come to Cardiff over the years, and we're proud to be able to keep the Challenge Cup Final at the forefront of that."
Belfast Giants beat Cardiff Devils at the same venue to take the 2018 title.
A further boost for Devils is the news that forward Toms Rutkis has re-signed for the 2018-19 season.
The 20-year-old will continue his dual-contract with Swindon Wildcats, but Devils expect him to be challenging for a regular spot in the line-up soon.
Rutkis played 40 games for Devils last season and eight for Wildcats.
"Toms has had a great summer with us in the gym and on the ice," said Devils coach Andrew Lord.
"I think he is going to have a big year. The plan is for him to start the season with us for pre-season games and the CHL (Champions Hockey League) but we want him getting as much ice as possible, so the likelihood is that he will play the majority of games for the Wildcats.
"The great thing about Swindon is they have a proven track record of developing young talent and we know he will get more ice time and hopefully continue to improve."
Rutkis suffered a serious facial injury in September 2017 playing for Wildcats against Telford Tigers, which required surgery and sidelined him for several weeks.