Jeff Mason: Belfast Giants defenceman announces his retirement
Last updated on .From the section Ice hockey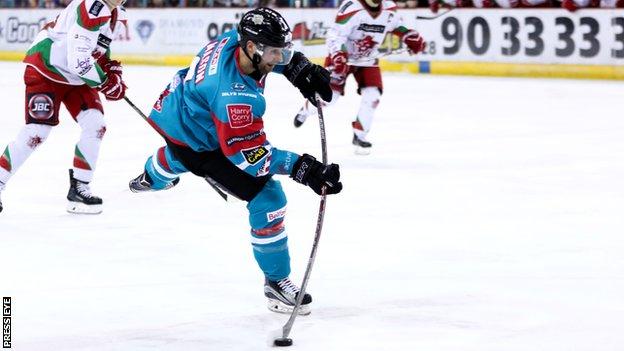 Belfast Giants defenceman Jeff Mason has announced his retirement before the start of the new Elite League season.
Mason, 37, made over 400 appearances for the Giants and won two league titles after moving to Belfast in 2010.
The American came out of retirement last season to play a starring role in the Challenge Cup victory last March.
"When I came back last year it was always going to be my last 'go-around'. I will certainly miss it after some great times here," said Mason.
The Providence College graduate is the Giants leading defenceman for scoring and games played and he the sixth-highest goal scorer in the team's history.
"I could not have imagined back in 2010 the journey that myself and the Giants fans would embark on," Mason told Giants TV.
"It has been a great time and I will not be far away, I will still be around at home games. Though as far as going on the ice - that will not be happening anymore.
"I had assumed I would play in Belfast for a short time, I was certainly not expecting to plant roots here - it is a great city that I now call home and I cannot say enough good things about the city and the organisation."
Giants head coach Adam Keefe has paid tribute to his former team-mate: "I wish Jeff all the best in life after hockey. 'Mase' was always at the top of my list for my Giants teams.
"He makes his team-mates better and I felt that, even in his final season, he played some of his best hockey which helped us win the Challenge Cup.
"This season we will very much miss his competitiveness and defensive talent that he brought to every shift he took.
"I am proud to have played alongside him throughout his time in Belfast and the three championships we won together are the highlights of my Giants career so far."