Friendship Four: Boston University to face Union College for Belpot Trophy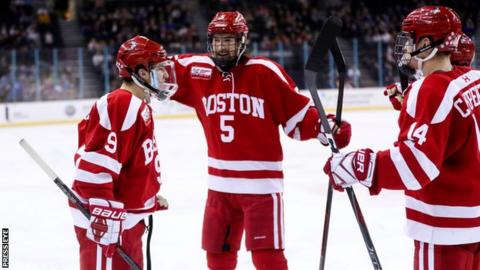 Boston University will face Union College in the final of the Friendship Four in Belfast on Saturday night.
'BU' overcame the University of Connecticut 3-2 on Friday evening to secure a shot at the Belpot Trophy.
Union College beat Yale in a penalty shoot-out after the two sides battled to a 1-1 draw after overtime in the earlier contest.
Yale will next play UConn in the consolation game at 15:00 GMT on Saturday at the SSE Arena.
Union College and Boston U will meet in the final at 19:00, with live coverage of the decider on the BBC sport website.
Five-time NCAA champions Boston U were seen by many as the big attraction at the tournament, now in its fourth year.
But they were rocked early in their game on Friday night when opponents UConn took the initiative as Karl El-Mir scored the opener.
The Terriers struck back with a power play goal from Patrick Curry with five minutes remaining in the opening period but the Huskies then retook the lead when the Czech forward Jachym Kondelik finished from close range, two minutes before the first interval.
Logan Cockerill, drafted by the NHL's New York Islanders, forced home Boston's second goal midway through the second period, and Ty Amonte got the go-ahead goal for 3-2 with a second effort to shove the puck over the line at the start of the final period.
Earlier, in the afternoon match-up between the two ECAC sides, Union College won a penalty shoot-out after a tight contest against Yale.
Jack Adams gave Union an early lead in the game, firing home after less than two minutes in the first period.
Yale battled hard to get back into the game and were eventually rewarded with less than nine minutes of regulation time remaining through Charlie Curti's superb deflection into the back of the net.
After a scoreless overtime, the game ended in a 1-1 tie for the purposes of the ECAC hockey standings - but a winner was needed to contest Saturday's Belpot Trophy final. And so to penalties, with Union keeper Darion Hanson the hero, saving two Yale efforts as his side prevailed 2-1 in the shootout.