Elite League: Giants continue fine form with Flames win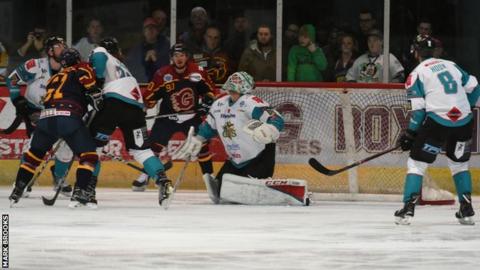 The Belfast Giants completed a four point weekend away from home with a 4-1 win over Guildford Flames on Sunday.
Brett Ferguson cancelled out Darcy Murphy's opener before Paul Swindlehurst gave the visitors the lead going into the final period.
Blair Riley and David Rutherford added late scores as Guildford searched for a way back into the game.
The Giants remain top of the Elite League standings.
Tyler Beskorowany started in the Giants' net with the visitors missing Jonathan Ferland, Colin Shields, Matt Towe and Andrew Dickson.
Murphy got the visitors off the mark seven minutes into the game, finishing neatly from Rutherford's assist.
However Ferguson finished off a rebound from close range to level just four minutes later.
Swindlehurst shot high into the Flames net to re-establish the Giants' lead before Riley and Rutherford scored in the final minute of play when Guildford were forced to pull goaltender Travis Fullerton in an attempt to find a last-gasp equaliser.