Home truths for Fife Flyers after defeats by Dundee Stars; 3-0 loss for Glasgow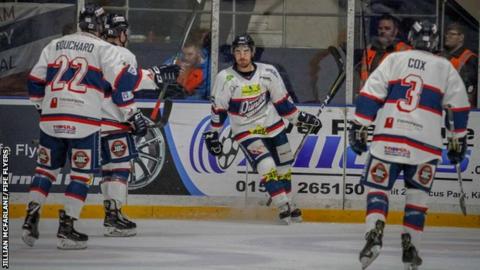 Fife Flyers coach Todd Dutiaume revealed he read the riot act to his players after they let a three-goal lead slip on Sunday to complete back-to-back defeats against Dundee Stars.
After riding high for so long, adversity began to kick in for the Kirkcaldy men when they met up with Dundee Stars in their first Gardiner Conference games of the season.
Alternatively, it gave the Stars fans something to cheer about as they overcame their own run of losses and even put a smile on the face of their coach Omar Pacha.
The result comes alongside Glasgow Clan dropping points against Guildford Flames, making for a constructive weekend for the Tayside club.
As for the Flyers, it was a sobering one and the patience of Dutiaume is wearing thin for his players.
Flyers downed as Stars shine
The Kirkcaldy men are now five matches without victory and on the back of a shutout loss then a penalty shots session, after leading the game 3-0 on Sunday, there is cause for concern.
They are still fourth in the standings and sit only two points behind Cardiff Devils in second place. But Dutiaume could not help but fume over a seemingly avoidable loss.
"That game will be summed up by a couple of bad individual choices," he said. "We handed away a game we were firmly in control of.
"The first period was the Fife Flyers team people want to see - maybe they thought that was enough to win it.
"It all came down to personal choices. We skate, we work hard, but bad habits have crept in, which is hard to eradicate and the players have listened to some home truths.
"We had guys who played their hearts out and logged incredible minutes, but we had some selfish and non-committed players there too.
"If we play the right way it works. When we do not, we become a sub-average team."
After a midweek loss in Cardiff, Fife targeted points against Stars, initially in Dundee, to get them back on track. However, nobody told the Stars.
With only one win in 15, the hosts were not really anybody's favourites for victory. However, when Johan Andersson opened the scoring in the 3-0 win with a shorthanded goal, the mood changed.
Brian Hart added a second early in the middle period before Jordan Cownie's power-play finish made sure, as Fife struggled to get on the board.
The fixture then made its way to Kirkcaldy for the rematch on Sunday and the Flyers started with fire in their bellies, going into a three-goal lead, before going down 4-3 after penalty shots.
Mike Cazzola, Ricards Birzins and Marcus Basara had Fife well ahead by the end of the first period, but this was a different Dundee to what had been seen in recent weeks.
They got a lifeline through Drydn Dow, but the real drama took place in the final minutes of regulation time when Jordan Cownie scored with three minutes to go.
Stars kept going and got the leveller through Matt Bissonnette with a minute and 43 seconds to go, sending the game to overtime.
In the end, penalty shots were the deciding factor and after 12 attempts each, Francois Bouchard scored the decisive one to complete a four-point weekend.
Clan blanked as Flames claim victory
Glasgow Clan also had a weekend to forget in their only game as Guildford Flames made the long trip to the West of Scotland and took a comfortable 3-0 win.
The Clan continue to be stuck in a rut of inconsistency, but the shutout loss to the Flames will have done nothing for them.
Evan Ritt opened the scoring early in the second period before Calle Ackered joined him on the scoresheet with a well hit strike.
The visitors tied it up late on as Ian Watters tucked away an empty net goal to secure a second win of the season over the Clan.
The game left forward Brendan Connolly, back after a two-game ban, feeling honest in defeat and he says they must do better.
"We didn't work hard enough to get the chances," he explained. "We have to be tenacious and work for 60 minutes through and through and have to be harder in all assists."
Stats of the week
Dundee Stars have won four of their past five meetings against Fife Flyers after their two wins over them this weekend
Dundee's past three wins on the road have all come at Fife Flyers
Glasgow's shutout loss to Guildford means they are the only team Pete Russell's men have yet to score against this season
Tweet of the week
It's fair to say Dundee Stars forward Lukas Lundvald enjoyed that weekend
Quote of the week
"Lukas [Lundvald] told me in the intermission, it was a good thing it was so tight because when you shot the puck, you looked very tired" - Dundee Stars captain Johan Andersson gets plenty of praise from his team-mate after his goal on Saturday.