Challenge Cup: Belfast Giants take eight-goal lead over Dundee Stars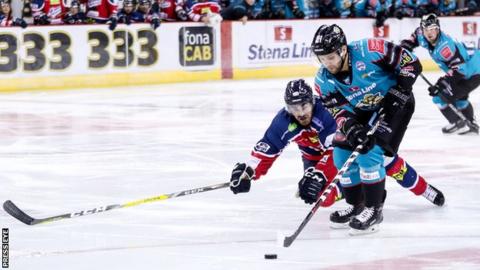 Belfast Giants put eight unanswered goals past Dundee Stars to open up a commanding first-leg lead in their Challenge Cup quarter-final.
David Rutherford and Kyle Baun scored two goals apiece for Adam Keefe's side.
Jonathan Ferland, Lewis Hook, Hunter Bishop and Jim Vandermeer also netted for the Giants as they continued their cup defence with an emphatic victory.
The holders will expect to seal a semi-final spot when Dundee visit Belfast for the return leg on 11 December.
The Giants beat Dundee 4-2 and 4-1 during the group stages in September and continued their cup domination over the Scottish side with a free-scoring display.
On home ice, the Stars started strongly but could not profit from an early five-on-three power play before Rutherford struck for the opener with 8:01 on the clock and then doubled his side's lead just over four minutes later when he was left wide open on the right wing.
Baun got his first of the night when the visitors punished a two-man advantage on 15:32 as the Giants took control by the end of the opening period.
A further four goals followed in the middle session as Ferland scored off another power play before Hook and Bishop got their goals and Baun added his second - assisted by Dustin Johner.
The home side attempted a final-period rally but could not find a way past Giants' netminder Tyler Beskorowany and the visitors completed the rout when Vandermeer scored at 45:12 with a shot from the blueline.
The Giants return to Elite League action on Saturday in the first of two games away to Sheffield Steelers before they host the Stars in the league on 5 December in what will be a preview of their quarter-final second leg at the SSE Arena just six days later.