Elite League: Giants hit back with victory over Storm
Last updated on .From the section Ice hockey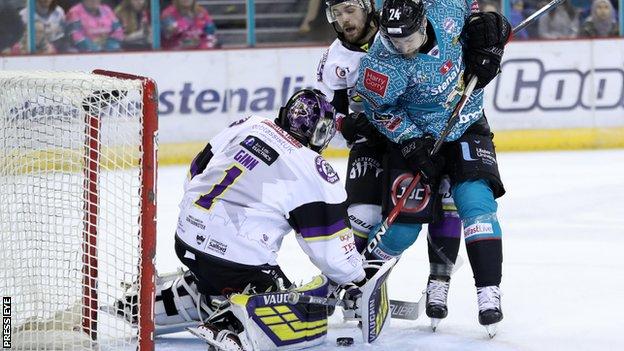 Belfast Giants avenged the shootout defeat by Manchester Storm on Friday by winning the second game of the SSE Arena double-header 4-0.
Patrick Dwyer put the Elite League leaders in front with the only goal of the first period on Saturday night.
Dustin Johner doubled the host's lead midway through the second period before David Rutherford and Josh Roach struck in the third period.
Belfast remain three points clear of nearest challengers Cardiff Devils.
Before the puck was dropped, there were repercussions for hostilities on the Belfast ice the previous evening.
Manchester started the game without Luke Moffatt, who was suspended by the Elite League's Department of Player Safety.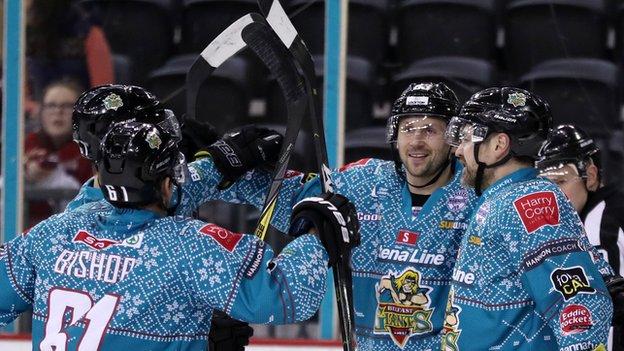 The Storm forward was deemed to have swung a helmet at Dwyer, a 'reckless' action that resulted in a two-match ban.
Belfast took the lead when Dwyer finished from right in front of goal after receiving Kyle Baun's perfectly judged pass.
Johner made it 2-0 when he fired high into the top corner past Matt Ginn in the Storm goal.
Friday night's game had demonstrated that there was no love lost between these two sides and tensions boiled over once again at the end of the period.
Just as 24 hours earlier, all players on the ice, with the exception of the two net minders, got involved in a brawl which eventually saw the Giants' Rutherford and Mike Hammond of the Storm serving penalties.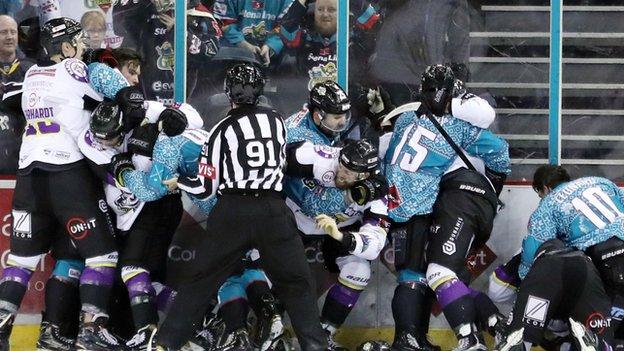 Upon his return to the action, Rutherford scored a fine unassisted goal early in the third period - his wrist shot flew in off the crossbar to give the Giants some breathing space in the match.
Defenceman Roach then added a spectacular fourth on the power play, firing high past Ginn after skating into centre ice past two Storm players.
There was time for another multi-player brawl before the end of the game, with Blair Riley and Kendal McFaull each serving two minutes for roughing, joined by Rob Linsmayer of the Storm, once the officials had restored order on the ice.