Elite League: Belfast Giants come back to beat Guildford Flames in overtime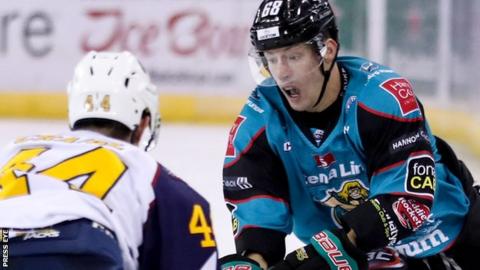 Belfast Giants twice came from behind to secure a dramatic 3-2 home victory over Guildford Flames with a Chris Higgins winner in overtime.
The game was scoreless going into the third period before John Dunbar gave the visitors the lead.
Giants captain Blair Riley hit the equaliser but Ben Davies restored Guildford's lead.
Record goalscorer Colin Shields' strike took the match into overtime before Higgins won it for the hosts.
The victory takes Adam Keefe's side to within one point of leaders Cardiff Devils in the Elite League table.
The first period was low key and saw few chances as the home side spurned two power play opportunities. Chris Carrozzi, in the Flames' goal, dealt ably with what little was thrown at him in the first 20 minutes.
The deadlock was almost broken in bizarre fashion late in the second period, as Giants' netminder Tyler Beskorowany lost control of the puck and was grateful as it rolled across the front of his goal before being cleared to safety.
The Flames grew in confidence as the game progressed and the Giants' keeper was kept busy heading into the second interval.
The visitors broke the deadlock in the fifth minute of the third period, with Dunbar pouncing on a loose puck and a clear path to goal to score unassisted.
The Giants responded on the power play after the Flames were called for too many men on the ice, with captain Riley firing home the equaliser with 11 minutes to go.
But parity only lasted five minutes before Davies restored Guildford's lead, reacting quickest to a rebound off Beskorowany.
Belfast dragged themselves back into the contest once more as veteran forward Shields blasted in, on the power play, to make it 2-2 with just over two minutes remaining.
The match headed into overtime and Higgins proved to be the matchwinner for the Giants as his sudden death goal after one minute and 48 seconds secured a vital two points in the Elite League title race.