Renicks sisters in contention to make Olympics squad
By Andy Burke
BBC Scotland
Last updated on .From the section Judo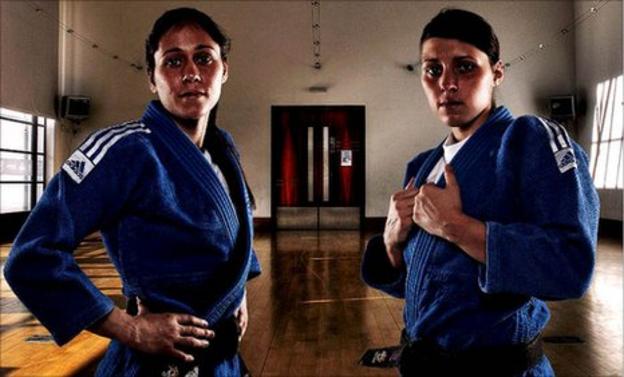 Sibling rivalry certainly has its flaws, but two Glasgow sisters feel it has carried them to the brink of the London Olympics.
Louise Renicks, 28, and her sister Kimberley, 23, are battling to be named in the Great Britain judo squad for next year's Games.
The Renicks think that competing with each other at a young age has instilled in them a strength of character required to compete at the top.
"I came to the same weight as her so I wanted to try and beat her," Kimberley told BBC Radio Scotland's Sport Nation programme.
"I was always chasing her, so if she got a medal I wanted to try and get a better medal.
"It helped me a lot because it made me fight that bit stronger. Seeing her win medals made me want to win medals as well."
Louise blazed a trail for her younger sister on the judo circuit.
"I was always the youngest person in my age group but I was always picking up quite high medals which allowed me to get into the British Championships," she said.
"I got a bronze and that introduced me to Great Britain and I was taken internationally."
It hasn't been all plain sailing for Louise. She suffered injuries in a car accident last year resulting in her missing several months of action.
Despite this blow, she is not ready to throw in the towel on her dream of competing at an Olympics.
"Just now I've got one British girl who is ahead of me, Sophie Cox, and she's the girl I am chasing [to make the GB Olympic squad]," she commented.
"There is one place then a reserve position. I see myself as that reserve chasing to get the number one spot.
"In Judo, we're still competing up until May, so there are still seven, eight, nine competitions, and as long as I keep getting results it puts me in contention."
Kimberley is also on the road to recovery after a shoulder operation but is still a strong contender to be competing in London.
She feels that a lack of funding is a difficult hurdle to overcome in judo.
"I don't think we get funded enough. Once you make the team, all your trips are paid for, which is brilliant," Kimberley said.
"But to make it onto the team it's quite hard, and once you make it, it's not the best funded sport.
"You've got to self-fund which is quite hard because people don't know what the sport is, so people don't put a lot [of money] into it."
Despite the challenges facing the Renicks sisters in their quest to make London 2012, the girls will be supporting each other every step of the way.
Louise says it would be a proud day for their family if either sister is selected for the Games.
"For the two of us to be there would be absolutely brilliant but even for one of us just to make it's still going to be two [at the Olympics]. The two of us are still going to be there no matter what."
Kimberley added: "We'll always be each other's training partner. If I got selected, I'd have Louise as my training partner to help me all the way through.
"No matter where we go we're always going to go as a pair."