British Judo chairman lowers 2012 Olympic ambitions
By Jessica Creighton
Olympic sports reporter
Last updated on .From the section Judo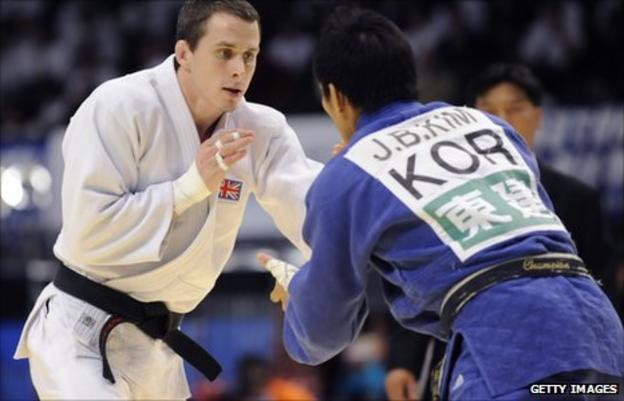 British Judo chairman Densign White admits he has lowered his 2012 Olympic expectations following the squad's poor World Championship display last month.
Fifth place was the best British result in what was their first championships without a medal since 1975.
Three key staff in the high performance team have since lost their jobs.
"I haven't seen any improvement in our performance in the last two years that shows we could win more than one medal at London 2012," he told BBC Sport.
"The World Championships target was one to three medals so not to get any at all was very disappointing," he continued.
Since the tournament in August, performance director Margaret Hicks has been relieved of her duties, as has head coach Patrick Roux and women's coach Jane Bridge.
Daniel Lascau, former German world champion, will now be in charge of the High Performance Programme, which focuses on British Judo's Olympic hopefuls.
But with 10 months until the Games, White is not convinced the staff overhaul can bring the desired results next summer.
"I'm not sure what we can do that's going to make a dramatic difference, but we have to try something," he said of Lascau's appointment as performance director.
"It's never pleasant to tell someone they no longer have a job, but the bigger risk for me is to come out of the London Games with no medals. If there's any chance I can change that, I have to take the risk."
The staffing shake-up comes two years after British Judo revamped its training structure after the team failed to win any medals at both the 2004 and 2008 Olympics.
A £5m centralised base in Dartford in Kent was opened to house the entire squad under one roof. But White admits, "Dartford never took off in the way we anticipated."
"We decided after Beijing to take a no compromise approach in order to be successful in London but the high performance staff didn't make it happen.
"Dartford never had the support of all the athletes and personal coaches so the blame for failure doesn't lie entirely with the high performance staff. They (the athletes and coaches) still don't understand it's not possible for them to reach the necessary international level whilst training in their independent facilities."
British judoka need to be placed in the top 22 of the world rankings to qualify for the Olympics if they are male and top 14 if female. The top eight in the world are seeded for competitions which means they fight lower-ranked opponents in the opening stages but no GB players have been able to sustain a top-eight position so far.
Britain's highest-ranked player Euan Burton has fallen to ninth in the standings following his early-rounds exit at the Worlds.
"I doubt any of our athletes will be seeded in London," said White. "I don't think they can make up the points."
"Our athletes are 400-500 points behind those in eighth so would have to win about five tournaments between now and London to have any chance of being seeded."
Medals for under-23 champion Ashley McKenzie,Matthew Purssey and James Austin at the recent GB World Cup still leaves them a long way off the pace of their rivals.