London 2012: Judoka Sophie Cox aims to complete golden return
Last updated on .From the section Judo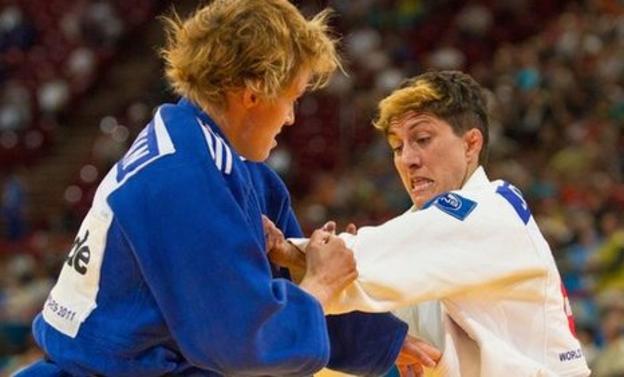 Judoka Sophie Cox has some "unfinished business" which she hopes to take care of in London this summer.
The 30-year-old from Rochdale, the British judo champion at the age of 16, competed in the 2004 Athens Olympics before her career looked to have ended when she retired a year later to become an English teacher in Thailand.
But after five years away, she has made a remarkable return to top-level judo and now has her sights set on winning a gold medal at the London Games.
It would complete an astonishing comeback in a sport in which the one-on-one battles are usually tough and unforgiving.
But judo has never held any fears for Cox, who was practising the martial art as early as the age of six, among a variety of other activities.
"I was always running around doing different sports, encouraged by my parents to get out of the house and do stuff like gymnastics, dancing and rugby," she recalls.
"I played rugby when I was eight and played through with boys' teams until I was 12 or 13, but I couldn't play rugby anymore because of the boy-girl thing and I don't think there was a girls' team around at the time.
"So I continued with the judo and I had a very strong coach in Brian Moore [her mentor at Bacup Judo Club], who was a very positive influence. I was travelling and competing from as young as 12, 13."
Cox, twice a European silver medallist, was a black belt at the age of 15 and says it was then she "became more aware of the possibilities a sporting career could bring".
After taking part in the 2002 Commonwealth Games, which were held very close to home in Manchester, she found competing in the 2004 Olympics "an amazing experience", but adds: "It seemed like it came very quickly and I don't think I was as ready as I could have been for it."
So to the decision to retire in her mid-20s.
"I tried to get back into the training but, as is often the case, there's often that anti-climax after all the build-up," explains Cox.
The closure of the National Judo Academy at Bisham Abbey in 2005 left her feeling "there wasn't really anywhere left to go where I would have felt comfortable training. I felt I couldn't commit 100% to a four-year Olympic cycle".
But by 2010, Cox was back in the UK - and back on the judo stage.
"To be fair, I thought that once you stepped away from the international scene and that level of training, you are going to be left behind. I didn't expect to go back to being an international competitor again," she says.
"There was definitely a part of me that wanted to see what I could do, but I didn't expect to get anywhere."
In fact, she has won a host of medals since her comeback, including a bronze at the Olympic test event in London in November.
And Cox, who will not know for certain until May whether she is back in the GB Olympic squad, confirmed her standing at the top of the nation's under-52kg category by winning gold at the Senior British Championships in Sheffield earlier this month.
Her return to the big-time has been made even more difficult by the fact she has gone down 5kg in weight, to the Under-52kg category.
"I made the commitment to go down in weight and I am going to stick to it. It's going to be hard but I just have to keep that level of discipline and I am naturally much more suited to being a 52 kilos player."
Her mum and dad, Cathie and Tony, are her biggest fans and attend most of the tournaments in which she competes all over the world. A medal at London 2012 would be the perfect reward for her family - and set the record straight for her personally.
"They are 100% behind me and it's amazing to have that backing," she says.
"I really felt that all the time and effort that I had put in when I was younger, and all the hard work other people had put in for me as well, I hadn't really done it justice and seen it through. It felt like unfinished business.
"It would be very exciting just going to the London Olympics, but there's no point going at all unless I get a medal - and when I say a medal I mean nothing less than gold. I want to win all my matches.
"For me it's making the most of the opportunities.
"I look at the sporting pedigree of people like Steven Redgrave and Kelly Holmes and think they have achieved the ultimate status within their sporting areas, and if I can get a tiny bit of that in mine then I'll be happy."