Junior Brit Hayley Willis wins senior judo trials title
Last updated on .From the section Judo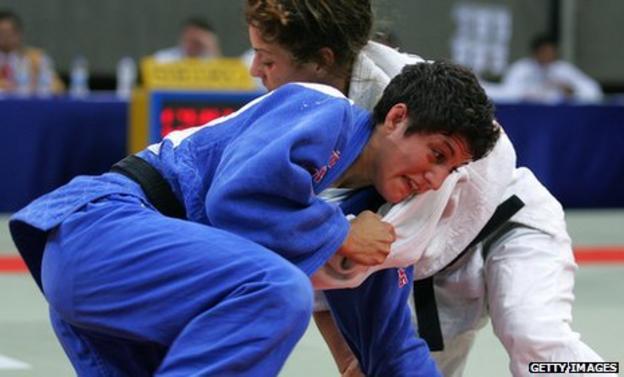 British junior judoka Hayley Willis pulled off a shock by winning the under-48kg category at the Senior British Championships in Sheffield.
The 16-year-old Junior World bronze medallist triumphed in the junior division on Saturday before adding the senior title on Sunday.
Willis overcame senior Games hopefuls Kimberly Renicks and Kelly Edwards.
"I went in with no pressure which I think helped my performance, and I felt strong on the day," Willis said.
She continued: "My main aim was to win the juniors and I wanted to just use the seniors to gain experience.
"It is more rewarding for me to see a good performance rather than the result, as it shows where my training has helped me improve."
British Judo boss Daniel Lascau said: "[Willis'] confirmed her ability at this level. She's a very good judoka."
Ashley McKenzie, favourite to win the male under-60kg division, placed third.
McKenzie is Britain's leading judoka in the world rankings at that weight - 22nd - but was beaten by Brendon Dodge and James Millar.
Sophie Cox, a European bronze medallist, confirmed her standing at the top of the under-52kg category as she won gold.
Willis and McKenzie are part of British Judo's 27-strong Olympic squad, which will be used to select who competes at London 2012.
As host nation, Britain has seven places for both the men's and women's teams, expected to be announced in May.
Lascau, the performance director at the British Judo Association, said: "I'm happy because some of the Olympic Squad confirmed their places while others now know they need to work even harder.
"The question I asked the players was not how many contests they won but how many they won by ippon because that's very important.
"We are establishing potential judoka for Rio in 2016 and I'm very happy with the junior competitors."
Full results can be found on the British Judo website.