Euan Burton and Karina Bryant leading hopes in 14-strong squad
Last updated on .From the section Olympics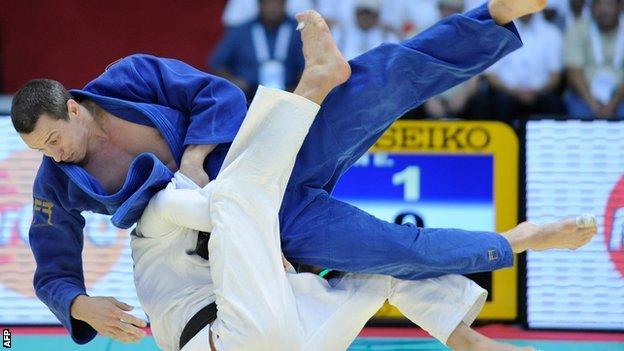 British Judo performance director Daniel Lascau insists his 14-strong squad will be ready to take on the best at London 2012.
Half-middleweight Euan Burton and European bronze medalist Karina Bryant are among those in the Team GB squad.
"We will approach it as our job making sure we've done everything possible to perform to our best," said Lascau.
Bryant, who won an eighth career European Championships medal in April, will be making her fourth Olympic Games appearance, and her experience and ability make her a realistic medal contender.
Burton, who lives in Edinburgh, made British history in 2009 by winning Japanese Grand Slam event the Kano Cup.
Sophie Cox, who featured at the 2004 Olympics, also returns after a lengthy sabbatical.
Other notable inclusions include in-form duo Gemma Howell, who has won her last four tournaments, including two European Cup and two World Cup events, and Colin Oates.
The Team GB squad is: Kelly Edwards (women's under -48kg), Sophie Cox (women's -52kg), Sarah Clark (women's -57kg), Gemma Howell (women's -63kg), SallyConway (women's -70kg), Gemma Gibbons (women's -78kg), Karina Bryant (women's +78kg), Ashley McKenzie (men's -60kg), Colin Oates (men's -66kg), Daniel Williams (men's -73kg), Euan Burton (men's -81kg), Winston Gordon (men's -90kg), James Austin (men's -100kg), Christopher Sherrington (men's +100kg).