London 2012: Ashley McKenzie eyes upset over Hiroaki Hiraoka

Last updated on .From the section Judo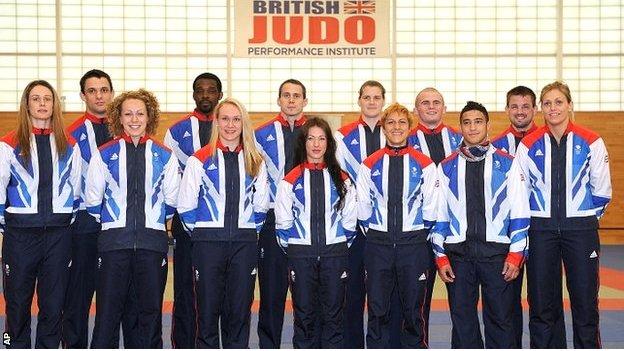 Ashley McKenzie is hopeful he can get the Great Britain judo team off to a flying start despite being drawn against the world number 10 Hiroaki Hiraoka in his 60kg opener on Saturday.
McKenzie, 23, is ranked 18 places below the Japanese former two-time World Championships silver medallist.
"I've beaten past world and European medallists so hopefully I can set the tone for my team-mates," said McKenzie.
"I worked hard to get here and will go to try to do the business on the day."
He added: "Judo is a bit of a mad sport - higher-ranked players can go out first fight, lower-ranked players can get a gold medal."
Team-mate Euan Burton's first match in the 81kg category is likely to be against reigning Olympic champion Elnur Mammadli.
Great Britain have a full quota of 14 competitors at London 2012 but have not won an Olympic medal since Kate Howey's silver in 2000.
And performance director Daniel Lascau was not getting too carried away about his squad's chances of success, despite home advantage.
He said: "We have to be realistic. We have 14 medal chances in London, which after athletics and swimming is the largest number of participants. But we also have the largest number of countries competing.
"Because we are the hosts we didn't have to qualify like the other countries, which gives us an advantage. But it's also maybe a disadvantage because our players didn't have to fight so hard to be here."
Burton, who competed at the 2008 Olympics in Beijing, was relishing the chance to gain revenge on Mammadli, the world number two who faces Canada's Antoine Valois-Fortier in his first match.
Burton, who has a first-round bye, has not beaten Mammadli in two previous matches but insisted he was robbed at the World Masters in Baku last year.
He said: "They were two pretty close fights and in Azerbaijan I was a little bit cheated because of the home crowd and the referee being swayed. It could well be another close fight and let's hope home ground does the job for me this time.
"I feel great, really fresh. I'm a better judo player now than I was four years ago in Beijing and I'm hoping to get a better result."
Another player with a tough draw is James Austin in the 100kg category, who meets Japanese Takamasa Anai, the world number four.
But Lascau said: "James Austin has the chance of his life - a Japanese in the first round at a home Olympics.
"The Japanese may be better than James, no problem, but the way he fights and presents himself is much more important than the result."
And Lascau said he would not be surprised to see Gemma Howell on the podium, despite her drawing world number two Gevrise Emane in her opener.
"In five tournaments [in the lead-up to London] she has won one bronze medal and four gold medals, a performance I'm proud of," said Lascau of Howell, who competes in the 63kg category.
"In this Games Gemma has an outside chance but has nothing to lose. But I would not be surprised to see Gemma in the top eight or as a medallist."