Judo: Colin Oates acts as training partner for Paralympics trio
Last updated on .From the section Judo
Colin Oates hopes to make up for missing out on a judo medal at London 2012 by helping three friends in their bid to win one at the Paralympics.
The 29-year-old finished equal seventh in the -66kgs category after losing narrowly to eventual winner Lasha Shavdatuashvili.
He is now working with Ben Quilter and brothers Marc and Dan Powell at the sport's UK base in Dartford.
"They've been thrown by me, it's time to return the favour," he said.
Britain has a team of five partially sighted fighters for the Paralympics judo competition.
And Quilter, from Brighton, is a genuine gold medal contender as the top seed in the -60kgs category.
"Marc and Dan have got more of an outside chance, but if they get the same kind of reaction from the crowd as I did, you could see something special from them," Oates told BBC Sport.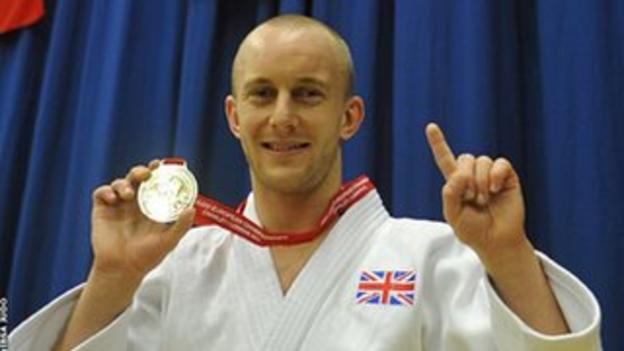 He will be returning to the ExCel Arena as a spectator when the Paralympics gets under way later this month and will be on hand to offer advice between contests.
"I feel more alive in a judo arena than anywhere else and I'm happy to do what I can to help - they're not just my training partners, they're my friends as well," said Oates.
Competition rules for Olympics and Paralympics judo are essentially the same, but partially sighted fighters begin contests by taking a grip on their opponent's uniform.
"Their fights can a be bit more intense because holding on makes it more endurance-based. I've tried it and it makes each contest a real battle," added Oates, who is planning a holiday in Turkey after the Paralympics before resuming his own training ahead of next year's European Championships.
With the post-Olympics focus now on establishing a sports legacy, Oates has been delighted by the level of interest in judo since the Olympics.
"I've heard that due to the performance of our players at the Games, we've had 5,000 people log on to the British Judo website looking to find a local club," he told BBC Norfolk.
"That's a massive figure, for 5,000 people to either be looking to get back into judo or taking it up, that's going to make a big impact on the sport for the future."