Karina Bryant: Life after London 2012 for the judo bronze medallist
Last updated on .From the section Judo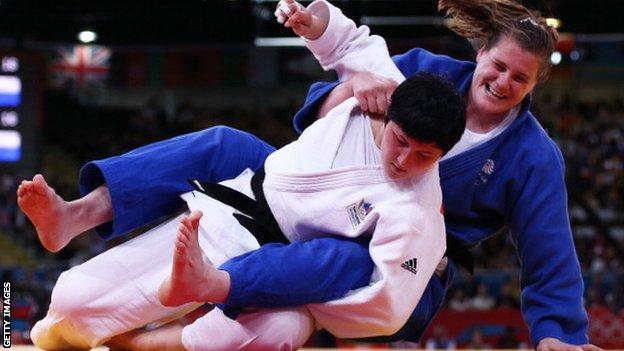 A knock on the door from the postman signalled the start of what Karina Bryant describes as the most bizarre experience of her life post-London 2012.
The baffled judo bronze medallist, recuperating at her Camberley home after neck surgery, carefully unwrapped the mystery box.
"They sent all the GB medallists wellies," recalls the 33-year-old, giggling as she remembers the day an Edinburgh-based company sent her a pair of Wellington boots in the colour of the medal she won under the glaring spotlights of the ExCeL Arena.
"It was bizarre. I don't think I've ever owned a pair of wellies and I never thought I'd get so excited over a pair of wellies!
"I'm too scared to get them dirty so maybe it's best I start using them as doorstops or something."
Becoming an Olympic medallist has changed little for Britain's most successful judo fighter.
Bryant, holder of 21 European and World medals, still drives the 12-year-old Mini she bought in the build-up to London 2012 thanks to the help of a generous couple who answered her public plea for money to buy a "modest runaround".
The tale of a four-time European champion having to ask strangers for cash to replace the decrepit banger she was driving to competitions and training struck a chord with many - especially as the only way the 6ft 1in heavyweight had of entering the car was by crawling through the boot.
"I'm pretty much in the same situation," says the Camberley judo club product, before laughing when remembering a comical moment at a multi-storey car park in Guildford.
"My legs were flying all over the place, my backside was up in the air... it wasn't a pretty sight - and the looks I got! I hope I don't have to get through the boot of the Mini because I'd have no chance.
"In the long-term I'm trying to secure a reliable car for the next four years up to Rio. Eventually, somewhere down the line, I will be needing a more reliable car to get me around for competitions. For the time being it does what it needs to do, gets me around from A to B."
Bryant's road trips since winning her first Olympic medal after three previous unsuccessful attempts have mostly been to charity events and schools as she does her bit to 'inspire a generation' to partake in the sport which captured her heart 23 years ago.
There has been a sprinkling of glamour, thanks to an invite from the Football Association to attend England's World Cup qualifier against Ukraine at Wembley.
"It was the first football match I've watched live," she says. "Walking out on the pitch at half-time was pretty amazing. The main thing I thought was 'wow, the grass smells really nice'."
Her evening at the home of football was curtailed as the Kingston-born athlete - who now admits she should have been bedridden instead of treading the hallowed turf - had to dash home to rest her weary neck, having gone under the surgeon's scalpel only a few weeks previously.
Bryant accepts her night out as a guest of the English FA set her recovery back by a "few days" but her rehabilitation is back on track, with a scar as thin as a biro mark down the front of her neck all that remains of the practitioner's work.
"I'm not getting any nerve pain now, which is fantastic," says Bryant, whose training had been hampered by the injury in the 18 months leading up to her home Olympics.
"The disc had worn down so there was no padding between the vertebrae. When I was moving my neck it was pressing on the nerve which went down my arm and into my thumb and finger, then I'd lose power in my arm.
"I felt it in my bronze medal fight. I got hit around the head and I felt the shooting pains go down my arms and into my fingers but I didn't have time to think about it, you just get on with it."
Surgery meant Bryant was unable to join her Team GB team-mates for the victory parade through the streets of London. Up until a few weeks ago a 10-minute walk, or a 20-minute drive, was as active as she was allowed to be, a routine which Bryant acknowledges nearly caused her to "go insane".
The loss of mobility, combined with the end of the biggest sporting event ever hosted on this island, has left the veteran of four Olympic Games feeling "lost" and "empty".
Of course, there has been the odd treat, more Indian and Chinese takeaways than an Olympic athlete would ordinarily eat, and there is a Christmas holiday to Perth, the city her mum and brother now call home, on the horizon.
And as Bryant convalesces at home, chuckling as she glances at her unworn bronze wellies, she thinks of Rio, and the sadness at the passing of an "amazing" 19 days in London is soon replaced by a renewed determination to succeed in South America.
"I'm just so proud I've done myself justice at Olympic level because it would have been a travesty after everything I'd achieved in the sport," she says.
"My dream is Olympic gold and being a bronze medallist has made me hungry for that gold, because it has made me realise I can do it. I'm still hoping I can fulfil that dream in four years' time."