Gemma Gibbons backs Kerrith Brown as British Judo chairman
Last updated on .From the section Judo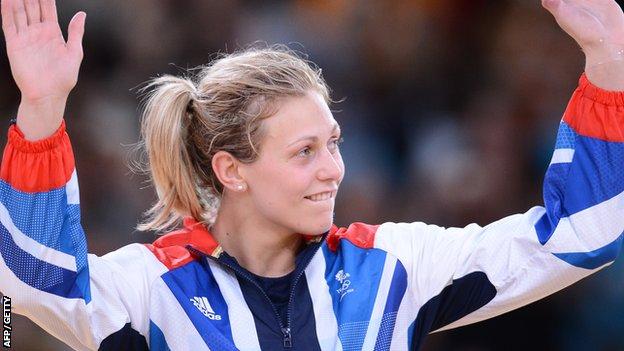 Olympic silver medallist Gemma Gibbons has backed the appointment of Kerrith Brown as the new chairman of the British Judo Association, despite his record as a drugs cheat.
Brown won bronze at the Los Angeles Olympics in 1984, but was expelled from Seoul in 1988 after testing positive for the banned substance furosemide.
But Gibbons supports the appointment.
"The job he has come into is as British Judo chairman. At the moment he has got my full support," she said.
"If I believe he is not doing a great job then that will change but at the moment, in my eyes, he could be a very good chairman."
Brown, 50, takes over from Densign White - another controversial figure, who upset some members of Team GB's judo team with comments during London 2012.
White criticised team members, claiming they had missed a once-in-a-lifetime opportunity and prompting British Olympic veteran Winston Gordon to say things needed to be "shaken up" at the British Judo Association.
Gibbons, who rose to prominence after an emotional celebration when winning her semi-final in the -78kg category at London 2012, believes White's arrival can have an impact.
"I wasn't impressed by what happened at the Games and I don't think the rest of the judo world were either," she said.
"But we have a new man coming in now and I think he will be very good at his job. I think everyone should get behind him and support him and we'll see what can happen."