Judo: Britain's Colin Oates plays down GB Worlds failure
Last updated on .From the section Judo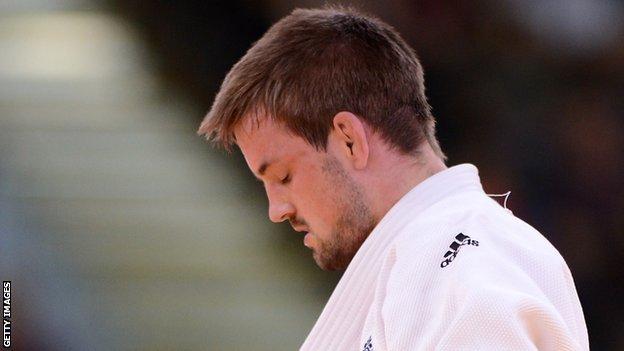 Judo player Colin Oates believes Britain's poor performance at the
GB failed to secure a medal as Diss's Oates went furthest in the competition, reaching the third round, one stage short of the quarter-finals.
Gemma Gibbons, one of two London 2012 medallists, was defeated in round two.
"Judo can be like that. We could have come away with four medals. People sometimes read too much into it," he said.
"The team was probably stronger now than a year ago, but even when it's stronger it doesn't mean we're going to storm the worlds and win more medals."
Competing in the -66kg category, Oates defeated two-time world champion Rishod Sobirov before beating London 2012 gold medallist Lasha Shavdatuashvili.
But the 30-year-old, who was knocked out in the last 16, losing to Azamat Mukanov, the eventual runner-up.
"There aren't many sports where you can beat an Olympic and world champion and then not even have a chance to fight for a medal," he added.
"I had 10 or 11 hard minutes to get into round three and then my next match was over after 20 seconds.
"I tweeted something the other day saying if anyone wants to challenge me about the hardest sport in the world. I think judo is probably the hardest sport in the world."
Karina Bryant was the other British London 2012 medallist, winning bronze at last year's Games,
Despite Oates not being worried by Britain's failure to land a medal in Brazil, he does believe there are some issues in the sport.
"One of the biggest problems is that we don't have any continuity," he admitted.
"British judo is constantly changing. I think judo has had a small increase [in participation after the Olympics] but it's tough to keep people interested."