Matt Purssey wants Glasgow 2014 gold to end judo career

By Kheredine Idessane
BBC Scotland
Last updated on .From the section Judo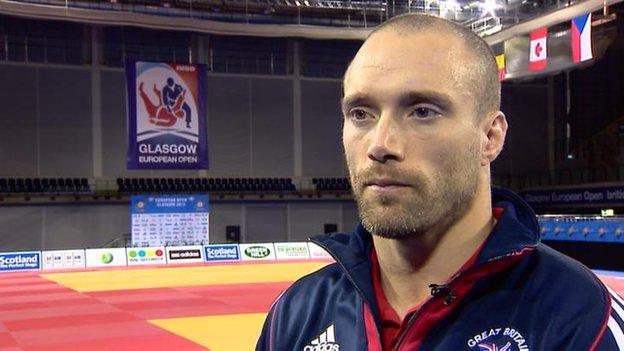 One of Scotland's promising medal hopes at Glasgow 2014 hopes to retire as a Commonwealth judo champion.
Matt Purssey believes he can contribute a gold at next summer's Games to what he feels will be the best ever performance by a Scottish judo team.
"I wouldn't say it if I didn't believe it," he told BBC Scotland.
"If I don't win gold, I'll be really disappointed. I'm committing everything to that task and I don't see any reason why I can't beat all the other Commonwealth competitors and win gold."
The 32-year-old is originally from Chobham in Surrey but has been living in Edinburgh for over a decade, training at the judo centre of excellence in Ratho.
He's looking forward to representing Scotland and uses the Manchester Games of 2002, the last time judo featured at the Commonwealths, as the yardstick for success.
"We had a great Games in Manchester, winning lots of medals but just one gold," he reflects.
"So we hope to win a few more golds. We've got some really strong female competitors and a very strong men's team so I think you'll see a lot more gold medals from the Scottish team."
Purssey is a 10-time British champion and competes in the -90kg category. His sights are firmly set on a medal in Glasgow this weekend at the European Open.
It's being held at the Emirates Arena in the city's east end, where the Commonwealth badminton will take place next summer. Purssey feels it's quite a coup for the city to get the event.
"This is the biggest event Scotland's ever held for judo, and the biggest event in Britain this year," added Purssey.
"Hopefully it's a good precursor to the Commonwealths next year and that the team does really well.
"The European Open is one of the toughest events on the circuit so there'll be world class players here and I think a lot of our Commonwealth competitors will also be here because it's a chance for them to get a feel of Glasgow a year out from the main event."
Purssey does not compete until Sunday but the action at the Emirates begins on Saturday.