Euan Burton: Scot targets Commonwealth Games berth
Last updated on .From the section Judo
Euan Burton says competing at the Glasgow Commonwealth Games in 2014 would be the ideal end to his career.
"It's starting to look like I could put myself in a position where I could be selected for Scotland," said Burton.
"What an honour that would be, to finish my career hopefully competing and winning a medal for Scotland."
Burton, 34, delighted his home fans in Glasgow with an impressive win over Great Britain team-mate Ben Fletcher, who was left with silver.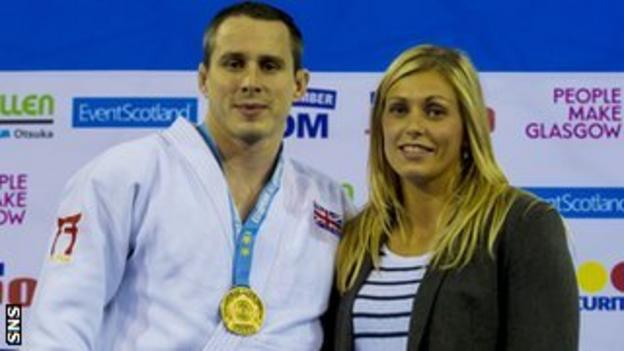 The Ratho-based fighter moved up in weight after a tearful exit from London 2012 at -81kg, which he believes has brought about a significant improvement in his performances.
It was also a big weekend for other Scots-based fighters, with four people based in Ratho picking up medals, including Colin Oates and Matt Purssey.
"It's not the same level of event as a World Championships or a European Championships or an Olympic games," said Burton.
"But it's a world tour event, so it's a pretty big deal and the fact that I'm competing at two weight divisions above my weight category and managing to win the event makes it even more special.
"The double bonus of the weekend is that I proved it to myself and four of the five medal winners at the weekend are based at Ratho, so it was a great weekend personally and as a coach.
"It was fantastic to fight in front of a home crowd and particularly a home crowd that's going to be very similar to the one we'll have in 2014 in Glasgow.
"It's great to be able to put on a show for the judo fans that are out there."
Burton's medal ceremony on Sunday was additionally memorable as his gold was presented to him by his wife, Gemma Gibbons, who won -78kg silver at the London games last summer.
"It was a bit strange," said Burton. "The first thing she said when she put the medal around my neck was 'they made me do this'.
"It wasn't the kind of thing she would normally have done."