Commonwealth Games: Euan Burton focuses on team prospects

By Keir Murray
BBC Scotland
Last updated on .From the section Judo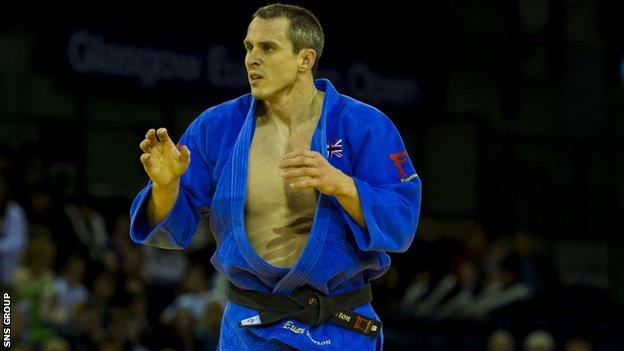 Scottish judoka and coach Euan Burton insists Team Scotland come before his own Commonwealth Games ambitions.
He told BBC Scotland: "My priority is coaching. A successful Games for me would be a successful team for Judo Scotland, not for me individually.
"If I get success individually that's great, but the team is the main thing."
Burton fought in the sub-81kg category in London two years ago but has since moved up two weight classes and now competes in the -100kg class.
But his focus is on coaching's Scotland's elite judo players at Judo Scotland's centre in Ratho, west of Edinburgh.
"I'm predominantly coaching and doing a little bit of training," said the double Olympian.
"If I do make the Commonwealth Games team, I'll need to up the training.
"It's great that the Institute of Sport and the people at Judo Scotland are aware of the dual nature of the role and they'll put things in place that mean I can do that."
Burton and his wife Gemma Gibbons, an Olympic judo silver medallist, were interested spectators at the Scottish Open at Meadowbank in Edinburgh on Saturday, where some of the Scot's students and team-mates were in action.
The competition was a domestic ranking event, with points won going towards qualifying for the British Championships at the end of the year.
"The big event for Scottish judo is the Commonwealth Games," added Burton.
"There are no qualification points for the Games at this tournament. It's below the level where the guys pick up points.
"But a lot of the players who potentially could be in the Commonwealth Games team use this as a run-out.
"It's an event that is close to the start of the year so it gives them an indication of where they are before those big international events start coming up that they can use for the Commonwealth Games and the European and World Championships later in the year.
"It's good to have an event at the start of the year that's not quite life or death and a few of the guys have found out where they are."
Among those were Patrick Dawson, Sarah Clark and Samantha Clark.
That trio head to Bulgaria in two weeks' time for a tournament that offers ranking points for Commonwealth Games qualification.
Edinburgh Club's Dawson won silver at Meadowbank in the men's under-73kg weight, while club team-mate Sarah Clark won gold in the women's under-63kg category. Samantha Clark took silver at under 52kg.
Burton continued: "Our Commonwealth Games guys were given a year's qualification period from April 2013 to April 2014 and they can earn points at the likes of European Open tournaments, Grands Prix, World Cup, Grand Slams and European and World Championships, so it's fairly high level events.
"The International Judo Federation calendar is pretty packed. It's almost every weekend.
"Some of our guys are fighting in some events, not in others, so it's going to be ding-dong all the way to May this year."
In other notable results for home players at the Scottish Open, Newtown St Boswells' Abbie Blackie won the 52kg event, Edinburgh-based Connie Ramsay lifted the gold medal in the women's under-57kg competition, JudoScotland's Jodie Mullen finished just behind Sarah Clark, and Ashley Flemming (Premier) edged out Michelle Boyle (Dynamic/Edinburgh Club) and Kirsty Rodgers (Boglestone) in the over-78kg competition.
Tayside duo Scott Malone and Aiden Moffat won the men's under-60kg and under-66kg events respectively, Christopher George from Aberdeen won silver at under-100kg and James Austin won the over-100kg gold medal.