Euan Burton: MBE a great end to judoka's golden year

By Jane Lewis
BBC Scotland
Last updated on .From the section Judo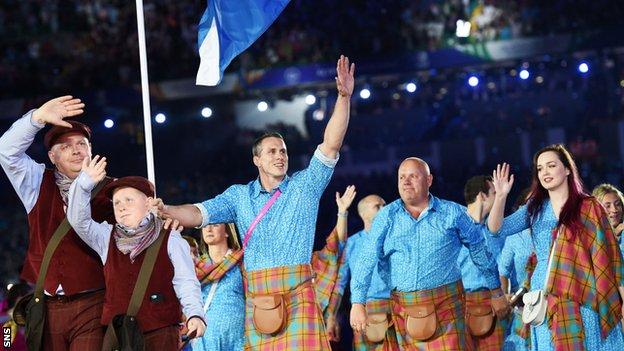 Glasgow 2014 gold medallist Euan Burton says being awarded an MBE marked the perfect end to his judo career.
"It's a brilliant way to end a good career and a great 2014," the 35-year-old said about receiving his award in the New Year Honours list.
"It's still just sinking in, I actually only found out about the MBE for sure the other day."
Burton kept news of the honour secret even from his closest family, ensuring a shock for his mother and leaving his wife, judoka Gemma Gibbons, less than impressed.
"I'd been sent a notification that I'd been put forward for the honour," Burton told BBC Scotland.
"I sent that away to say I'd be delighted to receive that but I didn't know if that meant I'd get an MBE or not.

"I'm away with my family on one of the islands off the west coast of Scotland for new year and there was a phone-call to the house, so it was a bit of a shock when the phone went. My mum answered and started sort of squealing because I hadn't told any of my family yet, so my mum got told by someone from the press.
"She was a bit shocked and my wife was a bit annoyed that I hadn't told her, but everyone is delighted.
"My wife was pretty pleased after the first 10 minutes of berating me for not telling her. Everyone is just very happy and proud.
"It's fantastic, a great way to top off a brilliant year for me."
Scotland's flag-bearer at Glasgow 2014, Burton won the 100kg division event to sign off his career in style before focusing full-time on coaching.
"Walking out into the arena to face my opponent in the final of the judo, it's certainly one of the most exciting atmospheres I've ever walked out into, but also one of the most nerve-racking," he added.
"I did feel the pressure and the expectation at that moment. I just tried to clear my mind of that and focus on the job of disposing of my opponent. Thankfully I managed to do that and put smiles on a few faces, including my own.
"I've had a long career and I've done things in my career that I would never have expected to have done as a kid who just loved judo. To have won the medals I've won, and to have been to the places I've been, and to be given the chances I've been given to meet some fantastic people, it's been amazing.
"I hope that will continue into my coaching role and I can help in some little way to open the doors to those kind of experiences for Scottish kids in the future."