Mixed Martial Arts is not a sport, says Euro Judo boss
Last updated on .From the section Judo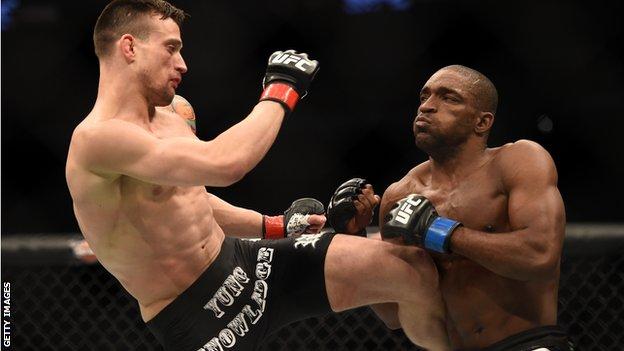 Mixed Martial Arts is not a sport, sets a bad example for children and does not have human values, the head of European judo has told BBC World Service Sport.
"MMA is not a sport, it is some kind of show," said European Judo Union president Sergey Soloveychick.
"Sport should have some human values and sports should help society develop human values. With MMA, it is not so."
He added: "It's not good if your opponent is on his stomach and you sit on him and beat his head.
"It's not good for the education of the young generation, so we don't like to promote this kind of organisation during our competition. The spirit is to destroy your opponents by different ways and this is not good."
British Judo's sponsorship deal with the Ultimate Fighting Championship prompted the decision to move European Championships from Glasgow.
But David Allen, senior vice president and general manager of UFC Europe, Middle East and Africa, defended his sport.
"To say that mixed martial arts has no rules is totally incorrect," he said.
"Mixed martial arts is made up of eight different sports from the martial arts world, of which six are Olympic sports. So to say it's not a sport is completely incorrect.
"Why we wanted to be involved with British judo was to help the tide rise and to bring the sport up for everybody."
The European Judo Championships will be held as part of the European Games in Baku, Azerbaijan, in June.