Judo: Pat Dawson dreaming of Rio after pain of Glasgow 2014

By Jane Lewis
BBC Scotland
Last updated on .From the section Judo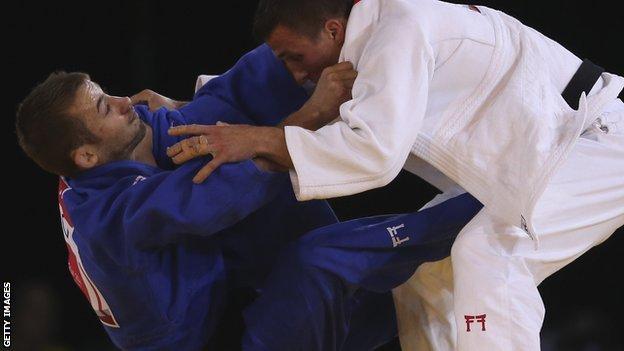 Pat Dawson aims to use his Commonwealth Games disappointment to spur him on to Olympic success next year.
The 27-year-old from Edinburgh was the only member of the Scottish judo team not to win a medal at Glasgow 2014.
He was then sidelined for nine months with a knee injury, dropping down the world rankings.
Now fighting fit, Dawson told BBC Scotland: "The idea of being part of the GB team is the reason that I turn up for judo every morning."
Scotland picked up 13 medals during Glasgow 2014, including six golds, but Dawson had to look on while his team-mates celebrated.
Competing at 73kg, Dawson came up short in his bronze medal match against Jake Bensted of Australia.
"Glasgow was a massive stage for everyone in Scotland but there's no bigger stage than the Olympics," he said.
"It would mean a massive amount and I don't just want to go to Rio, I want to go and try to get a medal."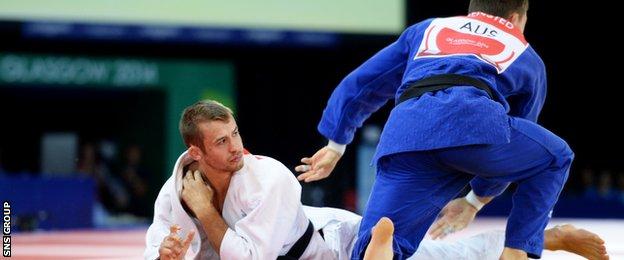 Having been full of confidence prior to the Commonwealth Games, Dawson was deflated by the experience but also determined to learn from it.
''The one thing I took away from Glasgow is that anything can happen in judo, anybody can beat anybody," he explained.
"Going in I probably had one of the best set of results out of my weight category. So putting that behind me as an individual event and moving forward I was sure that I could re-create the success that I had before.
"I was low for a couple of days. Then it started to get better again because it was just a competition, at the end of the day, and how you bounce back from something like that defines you as a person and as an athlete, not your actual medals."
Euan Burton, Scotland's national coach
"Pat's got really good people around him, he's got good coaching staff and he's got good training partners. The most important thing is he's a very mentally strong athlete. It's a champion spirit that will get him through and I said at the time that the loss in Glasgow will push him on to greater things''
Then came the injury setback, sustained in training.
Dawson said: ''When I first got injured, I tried not to watch the world rankings, but when I came back and I was close to competition,it was something I had to look at, and think, 'right, which tournaments do I need to hit and place and medal?'
"But it was also about not rushing it, so that I didn't hurt my knee again - then I'd be back to where I started again.''
Dawson's comeback was at the Glasgow European Open last weekend but his early exit means he will need to pick up points for Rio later in the year.
"There are different levels on the International Judo Federation world circuit," he said.
"There's a Continental Open - like the Open in Glasgow. Grand Prix above that, then there are grand slams and major championships - World, Europeans and the World Masters.
"You can qualify with the right medals at Continental Opens but you are much more sure to pick up points if you compete in grands rrix.
"It's really important for me to medal in every tournament, but the more points I can pick up in grands prix, the easier it becomes to qualify for Rio."