Judo: Britain's Bekky Livesey wins bronze in Turkey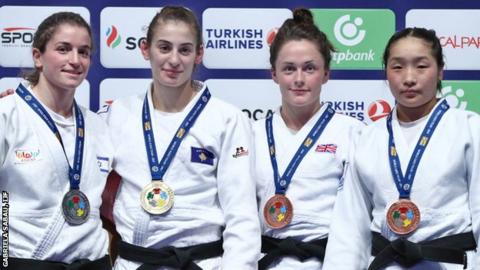 British trio Gemma Howell, Lubjana Piovesana and Bekky Livesey won bronze at the Antalya Grand Prix in Turkey.
Junior world number one Piovesana, 20, claimed her first -63kg Grand Prix bronze by forcing Livesey's sister Amy, 23, to concede three shido penalties.
Howell took her maiden -70kg Grand Prix bronze with victory over Szabina Gercsak of Hungary on Saturday.
The 26-year-old has previously won one silver and three bronze medals fighting in the -63kg category.
On Friday, Bekky Livesey won her second Grand Prix medal after -57kg bronze in Zagreb last year, in just her second competition since a six-month knee injury lay-off.
The 21-year-old started slowly against Krygyzstan's Kseniia Beldiagina but, with 90 seconds to go, executed a big throw for waza-ari and saw it out.
"I felt rusty and slow but I'm really pleased," said Livesey, who will fight in this month's European Championships.
"Returning from injury is really hard because you doubt yourself, thinking you're not as good as you were - but it's really great to be back on the podium."
Elsewhere, Britain's Ebony Drysdale-Daley was beaten in the second round of the -70kg by top seed and eventual silver medallist Elvismar Rodriguez of Venezuela.