Commonwealth Youth Games: Swimmer McMillan secures third medal for NI team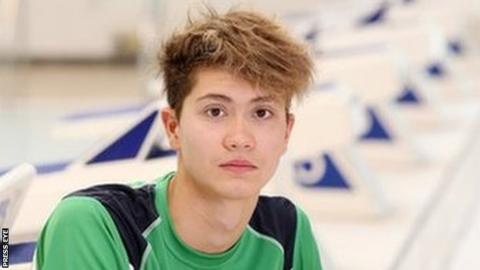 Swimmer Jack McMillan has become the third competitor from Northern Ireland to secure a medal at the Commonwealth Youth Games in the Bahamas.
McMillan clinched a bronze in the boys' 200m freestyle final.
Rachel Bethel missed out on earning another swimming medal by 0.15 seconds as she took fourth in the girls 200m freestyle final.
Rebecca Reid and Shannon Russell finished seventh in the 100m backstroke and 200m breaststroke finals.
Both Northern Ireland medals on the opening day of the championships came in judo, with Kirstie Strouts McCallion collecting a silver and Matthew Elliott a bronze.
Kirstie, 17, beat English and Bahamian opposition but lost out on the gold to her Scottish opponent.
She then led NI as flag bearer at the opening ceremony.
Matthew, 17, lost to the world number four before battling through to win his bronze medal fight.
Kirstie belongs to the St Columb's Park Club and Matthew the Murakwai Club.